Learn more about the Preferred Builders at The Ridge in Courtenay
Posted: Nov 27, 2019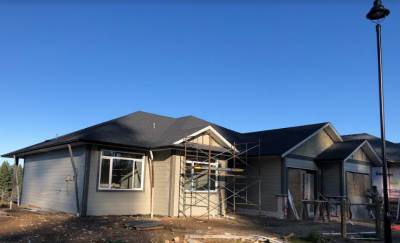 The Ridge in Courtenay, BC is seeing an influx of families moving into their new home community. They often move from Metro Vancouver, other areas of BC, Alberta and beyond to enjoy the stunning scenery, recreaional opportunities and temperate climate.
To make building your new home as seamless as possible, Buckstone Investments Inc., the developer of The Ridge, has partnered with several preferred builders to ensure that everyone moving into a new home at The Ridge has easy access to reputable builders.
One of these preferred builders, Grand Legacy Homes, currently has two new homes under construction and for sale at The Ridge:
Located at 3318 Harbourview Blvd. this 1,620 sq. ft. rancher/bungalow-style home offers three bedrooms and two full baths. Features ofthe deluxe home include an open concept kitchen, natural gas fireplace, a double car garage and more. This home will be ready for occupancy in the Spring of 2020.
Price $659,000
At 4136 Chancellor Crescent, the second featured home offers more than 3,000 sq. ft. in a desirable rancher-style design with a walk-out basement. This lower level walk-out area will include a private two-bedroom secondary suite, with its own private entrance. From this home, you'll enjoy the panoramic views of the ocean and mainland mountains.
Price $749,900
For more information or to arrange a tour, contact realtor Christiaan Horsfall Personal Real Estate Corporation, RE/MAX Ocean Pacific Realty
Direct: 250.702.7150 Office: 250.339.2021
Email: christiaan@comoxvalleyrealty.com
OR contact the builder Grand Legacy Homes, Wayne Schick
Cell: 250.702.2251
Email: wayne@grandlegacy.ca
Come to The Ridge and see for yourself, why homeowners "Love Living at The Ridge!" Are you interested in building a custom home at The Ridge? Find out more information about newly available homes and lots in Phase 3A.
Contact Bruce Clapham Phone 250.650.8588
Email: theridge.bruce@mail.com
Please note that this blog entry was published more than three months ago. Some details may be outdated.