Daily Informative Updates on
New Residential Real Estate & Construction News
for Vancouver Island Communities
Feb 23, 2017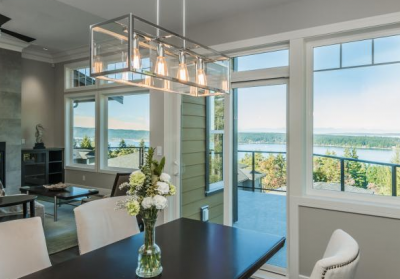 Sometimes the best information about a real estate development comes from those who actually live there. At The Gales - an ocean view condo and patio home development in Ladysmith - the residents really describe it best.
One couple, who moved from Ontario to BC in search of an ocean view home in a mild climate, have this to say about their home at The Gales:
"We found 'The Gales' after years of looking, Our visitors tell us we have a "Million Dollar View" and we agree. The hilltop terrace design gives us a beautiful panoramic view overlooking Ladysmith Harbour and the nearby islands, with the scenic Coastal Mountains in the background. This is special to us because the Northward orientation allows us to see ever-changing scenes painted in morning sunrise colors, which transition to evening sunset glows. We are even treated to beautiful night time views, which are enhanced by the path of the moon as it arcs across the ocean. The distant glow of clouds over Vancouver, combine with the twinkle of lights from houses across the harbour and from vessels underway, to create interesting evening settings.
"We never tire of watching the world go by from our bedroom, kitchen, dining or living room windows. You never know what you may see from resident eagles, to killer whales visiting the harbour. All of these scenes are beautifully framed in large picture windows in rooms with soaring ceilings. The skylight in the kitchen adds to the bright open atmosphere in a great layout.
"There is so much to do in our small town, and on the island. We are also within a short commuting distance of two major city centres. We feel very lucky to call this wonderful place home."
If you would like to experience the views and the meticulous high-end finishing of the homes at The Gales, contact Realtor Keith Mazurenko
: 1.866.315.0545
: 250.245.0545
: kmazurenko@shaw.ca
: http://www.thegales.ca