Daily Informative Updates on
New Residential Real Estate & Construction News
for Vancouver Island Communities
Feb 22, 2012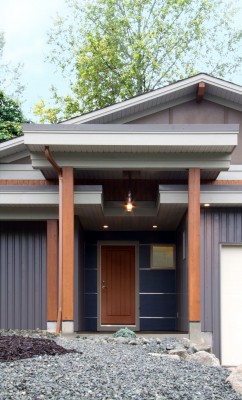 On a recent business trip to Whistler, BC, Comox Valley-based home building duo Bethany and Joe Pearce of Capstone Dwellings Design-Build noticed emerging trends in west-coast modern home design for new construction: nods to post-modern design; smaller/smarter use of space; creative use of durable materials; and attention to livability.
In the Comox Valley, Capstone Dwellings remains the only custom home building company designing and constructing contemporary homes with classic features and modern flair while focusing on responsible budgeting and smart use of space.
"At times we feel a little out of place in our community when it comes to our ability to build with our minds on the current times," Bethany said. "However, when we visit other parts of the west coast we see we're right on track with what the market desires. Plus, it's always good to be building smarter smaller homes with attention to the way people live, rather than how they sprawl!"
The Comox Valley has welcomed this company as they are currently experiencing a solid start to 2012 in their second year of focusing on the Design-Build method of project delivery in home construction.
"We're really eager to connect to potential customers that feel the same way we do about the home building process," says Bethany. "We've had a lot of strong connections with our clients in the past because we come to the project with the understanding that we can make responsible decisions as a team when designing and building. Design-Build focuses on having clients as team members – we like that and we think it works well."
As for their eye for the contemporary and modern, Capstone Dwellings Design-Build is confident that as the Comox Valley grows, so will it's overall need for creative expression through home design and building. While they're happy to build in any style their clients desire, they know there is a special fit for those clients who simply want to do something with a "wow" factor.
If you are looking for a custom home builder that is passionate about contemporary, smart design, the team at Capstone Dwellings Design-Build would love to hear from you. They offer casual, no-fuss, free consultations. Additionally, they would love to speak with developers who have a desire to meet current trends in the home building industry as a way to achieve more successful projects.
For more information contact Capstone Dwellings Design-Build online at www.CapstoneDwellings.com, by phone at 250-331-9004 or by email at Bethany@CapstoneDwellings.com.