Daily Informative Updates on
New Residential Real Estate & Construction News
for Vancouver Island Communities
Nov 15, 2016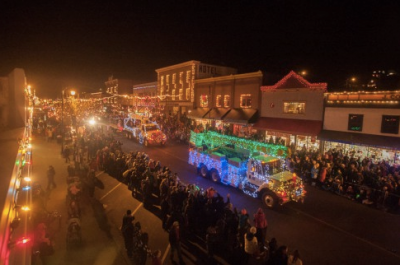 Next week marks the kickoff of the annual Ladysmith Festival of Lights. More than 1,000 volunteer hours go into setting up the festive decorations and 200,000 sparkling lights. The Town of Ladysmith has been a huge supporter of the Festival of lights since the beginning, helping make Ladysmith the Light Up Capital of Vancouver Island.
Service clubs like the Rotary Club and Eagles, along with many other organizations and downtown merchants have been major supporters of the F.O.L. for years. The Festival of Lights' biggest "sponsors" are the residents of Ladysmith, whose ever-increasing core of volunteers enhances the essence of our community and makes Light Up what it is today - a celebration of the spirit of the town and the coming of happy holidays and Christmas.
This year, award-winning GNB Builders, brought out a full crew to help set up the lights throughout downtown Ladysmith. GNB Builders are big part of the community, and are currently working on building new homes at The Gales in Ladysmith.
The Gales is nestled between the sea and the mountains - a retreat from the hustle and bustle of modern life. The Gales is a 68 home development (42 patio homes & 26 condos in two condo buildings) with ocean and mountain views. Every residence at The Gales is inspiring. Vaulted ceilings, spacious rooms, and impressive views are only the beginning. You'll also find top-quality finishing and amazing attention to detail. Grounds keeping is included, so you can enjoy relaxed, low-maintenance living and have more time to explore the beauty around you. Homes are designed and built in West Coast contemporary architectural style and floor plans are open, ideal for entertaining.
Ladysmith is a small and growing town located on a welcoming, active harbour, a spectacular hill-side setting, an historic heritage and a large range of activities for residents and visitors to delight in.
To learn more about The Gales contact:
Keith Mazurenko
: 1.866.315.0545
: 250.245.0545
: kmazurenko@shaw.ca
: http://www.thegales.ca