Daily Informative Updates on
New Residential Real Estate & Construction News
for Vancouver Island Communities
Apr 09, 2012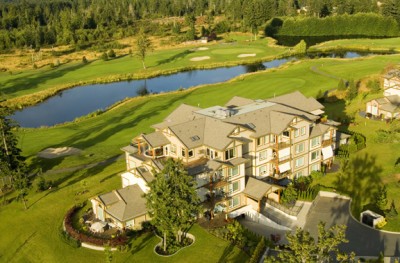 New tax rules easing the impact of the HST on the sale of new, high-value homes are leading to an increase in home building and sales activity at Vancouver Island's Crown Isle Resort and Golf Community in Courtenay.
Work is currently underway on building 17 new lots along the Suffolk Connector and part of Idiens Way. Eleven of these lots have already been snapped up by new home builders who plan to construct new homes for sale; the rest will be available as golf course lots for sale.
In addition, a preliminary layout application for a further significant subdivision has been submitted to City Hall for the east side of Crown Isle Drive, including new fairway homes on land bordering both the 16th and 17th holes of the golf course.
And plans are now being prepared for two or three further subdivisions so they are ready to be taken off the shelf and moved forward quickly if sales go as well as hoped.
They include a proposed extension of Crown Isle Drive to link up with Norfolk Way, with new lots on both sides of the new road.
Crown Isle's real estate director Jason Andrew, told the Comox Valley Echo that the resort is "super excited" about the new residential opportunities.
"The new HST rules really make a big difference to us; many new homes here are over $525,000. The changes mean people buying properties in the 600s or 700s are going to save a lot of tax, and the fact second homes and recreational residences also now qualify for rebates is a bonus."
From this week, the B.C. government has increased the price threshold for new homes from $525,000 to $850,000, granting HST rebates to buyers worth up to a maximum of $42,500.
Crown Isle was well positioned to take advantage of the changed tax situation, Andrew added, as it had large areas of land already zoned for residential development and several builders interested in progressing their own developments in addition to Crown Isle marketing its own properties.
"We think a pretty good window of opportunity is opening up," said Andrew. "We have definitely seen a lot more traffic through our own and other show homes on site, and construction activity is building up nicely."