Daily Informative Updates on
New Residential Real Estate & Construction News
for Vancouver Island Communities
Jun 04, 2016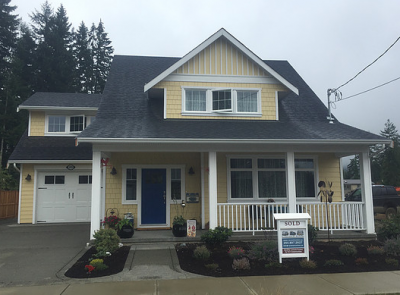 The real estate market in the Comox Valley is breaking new ground, as old sales records are falling, due to a seller's market.
In May 2016, the benchmark price of a single-family home in the Vancouver Island Real Estate Board (VIREB) area was $364,500, up 9.36 per cent from one year ago. Benchmark pricing tracks the value of a typical home in the reported area. The benchmark price of townhouses and apartments also increased in nearly every market. The average MLS® price of a single-family home in May was $411,458, a 13 per cent increase from May 2015.
In the Comox Valley, the benchmark price of a single-family home was $360,400, up 11.32 per cent from 2015.
Marty Douglas, manager of the Remax Ocean Pacific Realty offices in Courtenay and Comox has noted that in the 12 months ending May 31st, 2016, according to VIREB statistics, there were 1861 sales of all property types, a 22% increase over 2015. Year to date sales for 2016, are showing a record high of sold houses averaging 103 sales per month, a total of 515 units
since January 1, 2016. The 2016 residential sales pattern in the Comox Valley indicates 40% of all single family dwelling sales occur between $350,000 and $500,000. The list/sell ratio in May was 103%. The 12 month list/sell ratio is 81% and currently, listings sell for 98% of list price in 58 days.
Gregg Hart, manager of the Royal LePage in the Comox Valley office stated, "May of 2016 is the biggest month we have ever had in our office. Sales were up 50% in April and May of 2016 compared to April and May of 2015. Single family homes are the biggest selling category followed by patio homes apartment-style condominiums and townhouses. We expect to see this level of activity continue over the summer and into the fall."
Multiple offers on listings are occurring more often and Realtors are also seeing offers over list price as buyers compete for the available inventory which is 35% less than one year ago.
In the Comox Valley builders have purchased lots from developers to build new homes, decreasing the inventory of lots at a rapid pace which is driving up lot prices and new home prices. Currently new subdivision applications have been submitted to the municipalities in the Comox Valley to develop new lots.
Hopefully we will see new inventory coming onto the market starting in the fall of 2016. This current proposed subdivisions will barely meet consumer demand as a sellers market is likely to continue for the next year or two due to lack of inventory.
Written by Clarice Coty
Editor, Building Links