Daily Informative Updates on
New Residential Real Estate & Construction News
for Vancouver Island Communities
Oct 28, 2016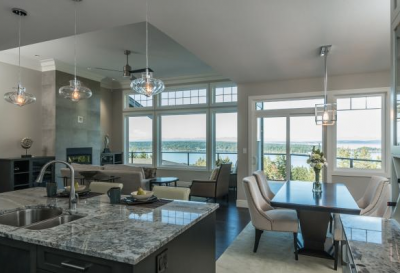 Take in all of the best of Vancouver Island living from your new home at The Gales in Ladysmith. Even in the winter months, you can enjoy the outdoor spaces and ocean views in on of Canada's most temperate climates. The luxury patio/town homes at The Gales feature top-to-bottom luxury - from the ocean view balconies and patios, to the luxury finishes throughout. And it's all designated Built Green® platinum.
Every detail is taken care of by award-winning GNB builders. Homes at The Gales in Ladysmith feature dramatic styling and wide open spaces which reflect the ocean and mountain views enjoyed from this hill-top real estate development.
Tour the current show home at The Gales - a 3,000 sq ft home with an open floor plan - and take in the ocean views for yourself.
Homes at The Gales offer:
Ocean views
Access to forest trails
Expansive outdoor spaces
A friendly small town setting
Luxury finishes
Granite counters
Exotic hardwood floors
9' - 12' ceilings
Heated flooring
Stone fireplaces
The latest home under construction, unit #18, is priced at $709,000. Units 16 & 17 are expected to begin construction soon.
For more information about this new home currently under construction, the show home, or other opportunities within the development, contact:
Keith Mazurenko
: 1.866.315.0545
: 250.245.0545
: kmazurenko@shaw.ca
: http://www.thegales.ca