Daily Informative Updates on
New Residential Real Estate & Construction News
for Vancouver Island Communities
Jul 28, 2022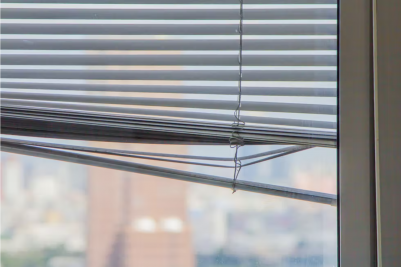 Is it time to update your blinds? If it's not just about aesthetics, consider these other signs it might be time for new window coverings:
1. Warped, Bent or Broken Slats
Faux wood blinds will bend when exposed to high heat for long periods, while wooden blinds warp when exposed to moisture. Aluminum blinds also dent when you apply heavy pressure. The damage is not only unpleasant to look at, it can cause difficulty during operation.
Solar/roller shades might be a great replacement choice for those windows that get a lot of sun. Choose from a range of opacities to filter light, heat, and harmful UV rays.
And while aluminum blinds can be a cost efficient choice in offices or commercial settings, honeycomb or cellular cordless shades or roller shades are an excellent upgrade for your home. They're child-friendly, available in light-filtering to room-darkening, and are flexible, very durable, and easy to clean.
2. The Window Treatments Are Difficult to Open
Do you struggle to open your blinds and shades or draw your curtains? If so, it means that your opening mechanisms are damaged or are simply worn out and need to be replaced. For corded blinds, the damage may also be tangling or broken cords. For non-motorized curtains and drapes, opening and closing may be restricted due to jammed curtain tracks. The carriers in the track could be off or the cord control is simply worn out and frayed, making the curtains even harder to operate.
Frayed cords are also difficult to operate. A new set of blinds helps you eliminate operation issues and the frustration of not being able to raise or lower your blinds. You may also experience problems with old, motorized blinds, or shades. Automation has improved greatly, with new motorization options from rechargeable to smart home apps. Replace outdated technology and enjoy opening and closing your window treatments with the push of a button on your smartphone.
3. Discolored Slats and Fabrics
Over years of use and exposure to weather elements, the slats on your blinds and wood shutters lose their color and begin to yellow. UV rays from the sun discolor the material, making your blinds and shutters appear faded and outdated.
New window treatments are pleasing to the eye, especially if you're looking to upgrade your home for sale. Homebuyers are more willing to give your house a chance if the window treatments are as new as the freshly painted walls in the rest of the house.
Where Should You Start?
Do you need new window treatments but don't know where to start? Budget Blinds of Vancuver Island has the solution for you. Schedule a free consultation with us to receive expert guidance on window treatments for a fresh look or sale upgrade.
Contact your closest Budget Blinds location today:
Cowichan Valley
Call: 250.924.0249
Nanaimo-Oceanside
Call 250.751.8564
North Island - Courtenay
250.338.8564