Daily Informative Updates on
New Residential Real Estate & Construction News
for Vancouver Island Communities
Sep 29, 2021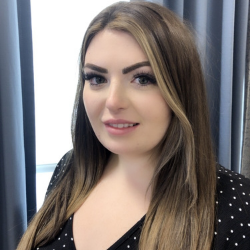 Budget Blinds on Vancouver Island is proud to offer complimentary design consultations to help you sort through all of your window covering options.
Budget Blinds' design professionals will help you find the exact right fit for your windows! In Campbell River, customers can meet with Chloe Traviss.
Chloe is a style consultant at Budget Blinds with many years of interior design experience. She started her design career with a sub-specialty in kitchens and home staging. Chloe has experience working on both new construction as well as renovations of all sizes.
Chloe lives in Campbell River with her husband, daughter, and their new puppy. In her free time you can find Chloe at the ocean or exploring the beautiful outdoors Vancouver Island has to offer.
Chloe is looking forward to building relationships with our new and past clients while bringing beautiful window coverings to the many homes of Campbell River. For all of your window covering needs, set up a free in-home consultation with Chloe and explore all of your options - from draperies, to shades, shutters, window film, home automation and more. Chloe will professionally measure your windows and leave you with a free quote, all from the comfort of your own home.
Additional Covid Safety measures are in place, and virtual consultations are also available.
Contact Chloe and the Campbell River team via the North Island location:
North Island - Courtenay
250.338.8564
Sep 28, 2021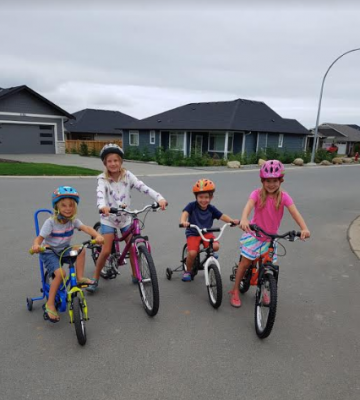 Some of the most important considerations when choosing a new neighbourhood for your family include safety, quiet neighbourhoods and a sense of community. The Ridge in Courtenay, BC has built up an excellent reputation during the past seven years for being one of the most family-friendly neighbourhoods in the Comox Valley.
All of the homes at The Ridge have both front and back yards and also include a deck or patio to relax in. Enjoy the mountain and ocean views from your heritage-style front porch or your private yard, great for the kids and pets.
Nearby amenities include grocery and retail stores, restaurants and coffee shops, banks, pharmacies and medical offices. Courtenay is a laid-back coastal community offering locally grown culinary delights, an active arts community and a vibrant music scene. There are a myriad of community activities for all ages including baseball, soccer, hockey, golf, sailing, dance, gymnastics and more. These activities are available within a 15 minute radius of The Ridge.
The Ridge community includes an extensive network of walking trails, a large park and a small lake. The community is located adjacent to Millard Creek Nature Park, and only minutes from the city centre and the ocean's edge. Mount Washington is located close by and offers summer activities such as hiking, mountain biking, chair lift rides and access to a zip line. Once the snow arrives, the focus shifts to skiing, snowboarding and snow shoeing.
The Cumberland and Courtenay recreation centres are located nearby as is the newly built Comox Valley Hospital, Aquatic Centre and the Comox Airport. Combine this close proximity to amenities with the easy access to breathtaking nature destinations and you have the best of both worlds.
This neighbourhood is family-friendly, dog-friendly and everyone-friendly. You will often see people waving to each other from across the street or from next door. You and your family will be welcomed by the other residents and will soon get to know each other. Here is a part of a testimonial from one of our residents, James and his family who share this exact sentiment:
"Often, we sit on our front porch and talk and wave to other residents. We have met a lot of new people at The Ridge and find everyone to be very friendly and personable.
"Our younger children are active in sports and we really like the close proximity to these activities from The Ridge. We also walk and bike around all of the trails at The Ridge and we often use the seaside trail to ride directly to the beach which is only minutes away."
If you are interested in receiving more information about new homes at The Ridge, contact any of the preferred builders, all of who have a proven track record of building quality homes in this friendly neighbourhood. They have reserved home lots in the current phase.
Posted September, 2021, conditions and availability subject to change without notice.