Daily Informative Updates on
New Residential Real Estate & Construction News
for Vancouver Island Communities
May 28, 2022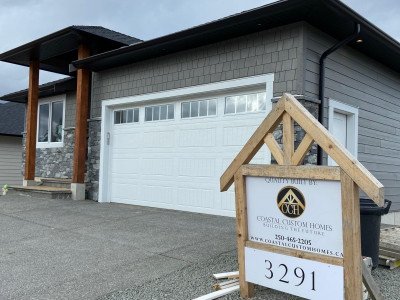 Spring is here and new home construction activity continues to be busy at The Ridge in Courtenay, BC. The six preferred builders in this community were selected because of their experience, high construction standards and ongoing customer service. More than 160 homes have already been built in this community and many new homes are under construction. When complete, this scenic development on Vancouver Island will include 230 single family homes.
New Homes Now Available
Two preferred builders have new homes that will be ready for occupancy in Spring, 2022.
Coastal Custom Homes has a newly constructed home for sale at The Ridge Courtenay, BC
This custom-designed home includes 3,300 sq. ft. over two storeys. The main living area offers 2,600 sq. ft. of living space and includes five bedrooms, three baths and an additional flex room, perfect for an exercise area or a media room. The lower floor features a 700 sq. ft. one-bedroom, one-bath self-contained legal suite that can be used for family, guests or tenants. This property will be fully fenced and landscaped.
Location: 3291 Eagleview Crescent, Courtenay, BC
Price: $1,325,000 + GST
Contact: Coastal Custom Homes | coastalcustomhomes.ca
Dean Vershuur Cell: 250.465.2205 Email: dean@coastalcustomhomes.ca
Candor Developments has a 1½ storey home located at The Ridge. This 2,000 sq. ft. home includes three bedrooms, a den and 2½ baths and is located on a large corner lot. will be ready for occupancy in April 2022. This property is fully fenced and landscaped.
Location: 4006 Southwalk Drive, Courtenay, BC
Contact: Candor Developments | Email: info@candordevelopments.ca
Realtor: Richelle Newson
Email: info@candordevelopments.ca Phone: 778- 977-2029
Find out more about the new homes at The Ridge by contacting the preferred builders directly:
Lawmar Contracting | Lawrie McIntyre Phone: 250.338.7637 Email:lawrie@lawmar.ca
Brando Construction | brandoconstruction.com
Realtor: Bill Anglin Cell: 250.703.6119 Email:info@courtneyanglin.com
Coastal Custom Homes | coastalcustomhomes.ca
Dean Vershuur Cell: 250.465.2205 Email:dean@coastalcustomhomes.ca
Candor Developments Inc. | candordevelopments.ca
Isaac Bale Cell: 778.995.2529 Email: info@candordevelopments.ca
Grand Legacy Homes
Wayne Schick Cell: 250.702.2251 Email: wayne@grandlegacy.ca
Availability and conditions are subject to change without notice.
May 10, 2022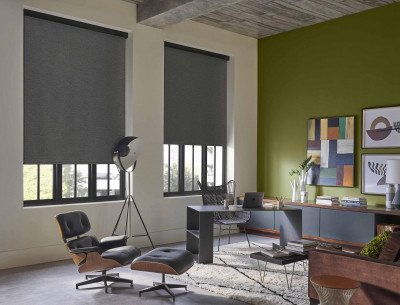 Big bright windows are a fabulous feature in any home, but have you considered how they affect your home's heating and cooling?
As much as 50% of a home's heating and cooling energy can be lost through the windows, costing you extra money and making it difficult to regulate home temperatures. Many experts agree that an average house featuring 15 windows outfitted with energy efficient window coverings can achieve an annual energy savings of approximately $150. Remember, "it's the little things" such as energy efficient window treatments, that make a difference in helping to conserve energy.
So rather than cranking up your heat or air conditioning to avoid uncomfortable temperatures inside your home, look to Budget Blinds for a number of great solutions. Choose from an array of versatile blinds, shades, shutters, and window film that are practical, energy efficient, and stylish.
Cellular shades, also known as honeycomb shades, combine the soft look and energy efficiency of window shades with the functionality of horizontal blinds.
Layering your curtains or drapery with light filtering or room darkening liners helps control light gaps and improve insulation retention.
Traditional wood shutters use an insulating design that helps make indoor spaces cooler in summer and warmer in winter, keeping your room at an ideal temperature.
Window film deflects up to 99% of damaging UV rays, reducing heat gain and protecting your furniture against harmful UV damage.
To maximize energy efficiency, consider our floor-to-ceiling drapes that fold back against the wall. This allows the drapes to seal off the window, preventing drafts and loss of heat through convection.
Learn more about all of the options at your local Budget Blinds on Vancouver Island:
Cowichan Valley
Call: 250.924.0249
Nanaimo-Oceanside
Call 250.751.8564
North Island - Courtenay
250.338.8564