Daily Informative Updates on
New Residential Real Estate & Construction News
for Vancouver Island Communities
Aug 28, 2020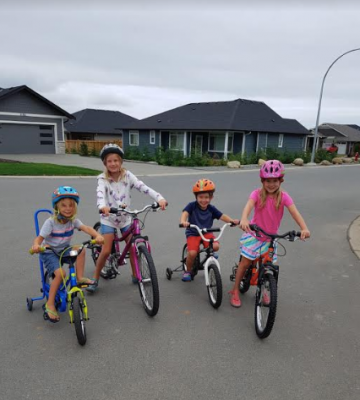 Living in a family-friendly community can be valuable boost for poeple of all ages. The sense of community and security, available outdoor activities, and time spent with neighbours can really make a community feel like home. This is one of the key selling features of The Ridge community in South Courtenay on Vancouver Island. You'll find many happy faces on both children and adults when you drive around this new ocean view community.
Kids are out riding their bikes on the wide boulevards, chalk drawing is a popular pastime on the sidewalks and neighbours are out walking their dogs throughout the neighbourhood parks and pathways. Impromptu basketball games will spring up when there are a few kids and adults gathering together around a basketball net.
The Ridge is a welcoming community where residents get to know each other and often end up becoming friends. Many residents have moved from other communities and even other provinces to find a welcoming place to call home. Living at The Ridge provides plenty of opportunities to get out and be active and have fun!
Nearby trails are popular for nature walks, and the 1.5 acre community park is large and suitable for all kinds of activities, including baseball, soccer, frisbee, football, or bocce ball. The park is fully grassed, irrigated and features a children's play structure. Street lamps surround the park, illuminating it at night. This dedicated park is just one of the reasons why families love living at The Ridge.
The location of The Ridge provides quick and easy access to outdoor activities at Comox Lake, the ocean, the Cumberland biking trails and many other outdoor activities in the Comox Valley. Life at The Ridge is family-friendly for all ages.
Are you interested in building a custom home on Vancouver Island? Find out more information about available lots and other homes for sale at The Ridge in Courtenay, B.C.
Contact: Bruce Clapham
Phone 250.650.8588
Email: theridge.bruce@mail.com
Aug 19, 2020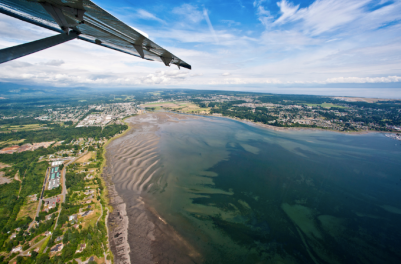 Step away from a frantic urban lifestyle and enjoy a more laid back, relaxing way of life in the Comox Valley, a piece of paradise on Vancouver Island.
The Comox Valley includes the city of Courtenay, Town of Comox, Village of Cumberland, Hornby and Denman Islands and several unincorporated communities. Located on the east coast of central Vancouver Island, with a growing population of 65,000, the region welcomes people from across Canada who choose to enjoy the year-round outdoor recreation activities and extensive amenities that the communities offer. The median age of residents here is 48 and the population includes families, retirees and young people.
The Comox Valley offers all of the critical things that create a strong, liveable community:
Recently, a new hospital was built in Courtenay. There are doctors and other medical professionals who are taking on new patients in our community. Having these facilities close by is comforting for those seeking medical care.

North Island College has programs for students of all ages and has an Elder College program for learners over 55.

The Comox Valley Aquatic Centre has swimming activities for all ages.

The Comox Valley Sports Centre has two sheets of ice and a wellness centre, weight room and sauna.

YQQ is a busy airport with multiple daily flights connecting the to Vancouver, Calgary and Edmonton, and seasonal flights to Mexico.

A diverse economy.

A vibrant arts and cultural community.
Compared to larger cities in Metro Vancouver and the Victoria area, housing in the Comox Valley is more affordable. If you are thinking of relocating to the Comox Valley, a new home development like The Ridge offers benefits that appeal to many home buyers, including zoning for secondary suites that could be suitable for in-laws, adult children or renters.
As an example, one of The Ridge's preferred builders, Coastal Custom Homes currently has a new home under construction and for sale. It is located at 3332 Harbourview Blvd. in Courtenay. This two-storey home features 3,022 sq. ft. and includes a 937 sq. ft. secondary suite perfect for extended family or to generate a rental income. This home features views of Comox Bay and of the mainland mountains and is priced at $849,900.
For more information about this new home, or to build your own custom home, contect Dean Verschuur:
250-465-2205 ​
Dean@coastalcustomhomes.ca
Are you interested in building a custom home at The Ridge? Find out more information about available lots and other homes for sale in Phase 3A.
Contact developer Bruce Clapham:
Phone 250.650.8588
Email: theridge.bruce@mail.com