Daily Informative Updates on
New Residential Real Estate & Construction News
for Vancouver Island Communities
Jan 29, 2022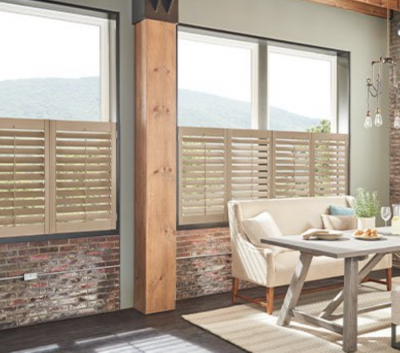 Budget Blinds of Vancouver Island offers a huge variety of window coverings, so when its time for you to update or add to your home's window decor, you'll find exactly what you need.
Window Shutters are a popular choice for an upgraded, updated look in any home. Shutters can easily elevate the decor in any room, while also controlling light and privacy in your home. Depending on your home's style you may wish to consider traditional wood or planation style shutters. For kitchen and bathrooms - and our humid west coast weather - composite shutters are a great durable choice.
Wood shutters are available in a number of stains and colurs, and can also be custom stained to to suit your decor.
If you want to bring in extra light while still maintaining privacy, consider cafe style shutters, which cover only the bottom half of the window
Shutters are a great option for homes with children and pets, as they are cord-free for safety. And while they are easy to operate, you can also have them motorized for added convenience.
Shutters also offer an added layer of insulation for your windows, to help you control indoor temperatures year-round.
If it's time to update your window coverings, call you nearest Budget Blinds of Vancouver Island location and consider their extensive selection of window shutters.
Contact your local store today:
Cowichan Valley
Call: 250.924.0249
Nanaimo-Oceanside
Call 250.751.8564
North Island - Courtenay
Call 250.338.8564
Jan 28, 2022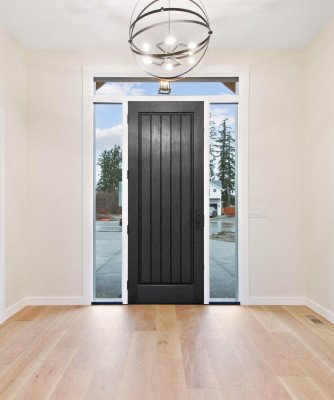 The preferred builders at The Ridge have been raising the bar when it comes to choosing creative designs for their homes. 1stView recently toured some of the new homes under construction in this Courtenay community. We saw that each floor plan is distinct and is designed to take advantage of the views at The Ridge. Some of the homes feature stunning views of the Comox Glacier and the ocean views of Comox Bay.
The developers told us that every month a new family moves into their new home at The Ridge. This friendly community welcomes newcomers and residents get to know their neighbours! One resident told us that they even get to know the names of everyone's children and dogs, as families play and socialize at the large local park.
Candor Developments is one of The Ridge's preferred builders and they have been building at The Ridge for the past five years. They are currently finishing a 1,626 sq. ft. home in the newest phase of The Ridge. This home includes three bedrooms, two bathrooms and has an open concept kitchen and great room. A covered back door patio is located adjacent to the dining room. A full appliance package will be included with the home and it includes a spacious garage. This home is scheduled to be ready for occupancy by the end of February. The yard is completely landscaped and includes built-in fencing.
For more information about this new home at The Ridge, contact Richelle Newson:
Realtor: Richelle Newson Cell: 778-977-2029 | Email: hello@realestatebyrichelle.com