Daily Informative Updates on
New Residential Real Estate & Construction News
for Vancouver Island Communities
Nov 27, 2022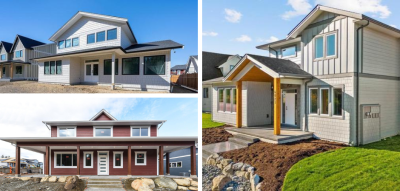 Three of the preferred builders at The Ridge have homes with carriage houses under construction in Courtenay, BC. Thanks to the innovative design and zoning at The Ridge, there are lots available to accommodate two dwellings on one lot.
What is a Carriage House?
A carriage house, also known as a coach house, is a separate building, typically at the rear of the primary home, that usually offers a garage or workshop on the main floor and a suite, or guest accommodation, home office or hobby/gym area on the 2ne floor. All of the upper floors in these three coach houses are designed as residences that can be legally rented out to generate a monthly income.
4033 Buckstone Road, Courtenay, BC
Built by Coastal Custom Homes, this home includes a 2,538 sq ft two-storey home plus a carriage house that includes a 652 sq ft separate two-bedroom suite. In total, this property features 3,190 sq ft of living space which includes six bedrooms and four bathrooms in the two dwellings.
Fantastic views of the Comox Glacier from both dwellings are stunning. This home will be completed in December 2022.
MLS® 903686 | Price: $1,399,000 + GST
Contact: Dean Thompson RE/MAX Ocean Pacific Realty
Phone: 250.898.4777 Email: dean@deanthompson.ca
4009 Buckstone Road, Courtenay, BC
Built by Lawmar Contracting, the primary home features a 2,533 sq ft two-storey home with a detached three-bay garage and a carriage house which includes an 806 sq ft legal suite. This property has two dwellings totalling 3,339 sq ft and has 5 bedrooms and 4 bathrooms.
This home features open views of the surrounding mountains. Occupancy is scheduled for late December or January 2023.
MLS® 906422 | Price: $1,450,000 + GST
Contact: Tracy Fogtmann RE/MAX Ocean Pacific Realty
Cell: 250.331.1544 Email: tracy@tracyfogtmann.ca
4021 Buckstone Road, Courtenay, BC
Built by Smits Construction, this primary home plus the carriage home has a total of 3,200 sq ft in two dwellings. The carriage house contains a one-bedroom, one-bathroom suite and a two-car garage. In total, there are 5 bedrooms and 4 bathrooms.
This home features open views of the surrounding mountains. This home has been completed and is ready for occupancy.
MLS® 908011 | Price: $1,399,000 + GST
Nathan and Kim King at Engel & Volkers Vancouver Island
Cell | Nathan: 250650.5654 Email: kinggroup@evrealestate.com
These homes are located in one of the friendliest and prettiest neighbourhoods in Courtenay and on Vancouver Island. It is truly the best community to call home.
Contact your own realtor or one of the listing realtors to have a look at these beautiful properties.
Nov 18, 2022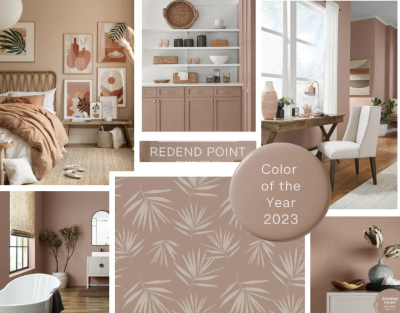 Bold or Subtle? The choice is yours, with this year's leading paint producers announcing their colours of the year. And as always, once you've made your choice, your local Vancouver Island Budget Blinds stores are ready to help you incorporate your colours into your home!
The colours and messaging behind the selections this year from Sherwin Willams and Benjamin Moore offer striking differences. Sherwin Williams selected Redend Point, a subtle neutral that will appeal to a minimalist design aesthetic. On the other hand, Benjamin More chose the bold, bright, "look at me" colour of Raspberry Blush, sure to appeal to those not afraid to use colour.
"Redend Point is a heartening hue that invites compassion and connection into any space," said Sue Wadden, Director of Color Marketing at Sherwin-Williams when annoucing the colour selection. "The colour is a natural choice for those looking for a warm and joyful neutral in both interiors and exteriors. Build on its earthiness by utilizing the hue alongside natural-looking textiles and wood accents—or create a desert oasis by layering shades of terra-cotta and clay materials."
Budget Blinds Inspired Shades Collection features woven shades with refined textures and natural fibers that perfectly complement Resend Point. Add white or natural linen sheer drapery panels to complete the look.
Unlike the subtle choice by Sherwin Williams, Benjamin Moore's pick for the 2023's Colour of the Year is the vibrant Raspberry Blush. The saturated shade energizes a room for a bright, charismatic look that's anything but subtle!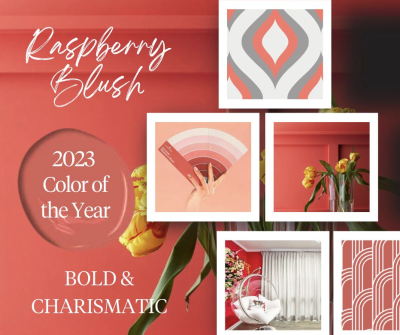 After years of neutrals and grays, "People are ready to bring colour back into the home, taking a step outside their colour comfort zones," said Andrea Magno, Color Marketing and Development Director at Benjamin Moore. "Raspberry Blush empowers the use of statement colors that deliver delight and personality while transforming rooms for incredible results."
Are you ready for raspberry walls and ceilings? For the maximalist, envelope a room in Raspberry Blush from the walls to the trim and the ceiling to wrap a room in an optimistic boldness. If that's too bold of an option for you, make a smaller impact statement on a kitchen island or add a pop of Raspberry Blush in pillows or accent decor. Soft shades of gray, white, and beige balance the bright hue.
Or mix it with colours from the rest of Benjamin Moore's 2023 palette, which includes a range of saturated tones varying from a deep blue to a sultry green to more rich chocolate and cinnamon hues. For Magno, all of these share one unifying commonality: "They're all happy. And we all need a bit of that right now."
Your home is a place to express your personality and feature the colours and décor you love. It should be your happy place! That is why Budget Blinds offers a range of products. From soothing neutrals and minimalist modern roller shades to rich fabrics in bold colours for drapes.
Plus, did you know they can create a one-of-a-kind custom fabric to match any colour? Budget Blinds' exclusive DesignINK program allows your local Budget Blinds to create a fabric to match any paint colour you like. Schedule a complimentary in-home consultation with your local Budget Blinds today to learn more.
Nov 12, 2022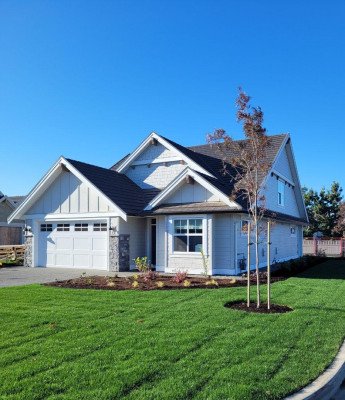 Integra Homes, a long time builder in the Crown Isle Golf Community has recently announced the opening of their new show home at Silverstone Estates. This uniquely situated patio home development is located between the 14th, 15th and 16th fairways of the award-winning Crown Isle Golf Course in Courtenay, BC. Integra Homes will be building all 48 homes with staggered completion dates. Sales in this development have been steady, with 70% of the units sold or pending in Phases 1 and 2.
There are only six available patio homes to choose from in Phases 1 and 2. Three remaining homes in Phase 1 all offer a courtyard view, some featuring sunset views over the mountains. Three remaining homes in the second phase face the 16th fairway and the Comox Glacier. These Craftsman/Farmhouse-style homes feature unobstructed views of the nearby lakes and fairways, the Comox Glacier and surrounding mountain range. Prices range from $920,000 to $1,100,000.
Patio Home Floor Plans
Silverstone Estates has a variety of patio home floor plans to suit any family living arrangement. These homes range in size from 1,437 to 1,983 sq. ft. A one level or rancher design is available, as are other units that have an upper floor with additional space for a guest room, an extra bathroom and even extra storage space.
All Ages Welcome!
Residents of all ages are warmly welcomed at Silverstone Estates and the development is pet-friendly. The Crown Isle neighbourhood is pedestrian and bike-friendly with sidewalks, trails and cycling routes for all to enjoy. The Comox Airport (YYQ) is only 10 minutes away, and Mount Washington is a quick 30 minute drive. Shopping amenities, plus North Island College, the Comox Valley Aquatic Centre and the Comox Valley Hospital are just five minutes away. This is a perfect location!
Open House at the Silverstone Estates Show Home
Location: 1444 Crown Isle Drive, Courtenay, BC
Hours: Friday to Sunday from 1 to 4pm
For more information about touring our show home, contact Integra Homes. Email: debra@integrahomescv.ca
November 2022 - Prices and availability are subject to change without notice