Daily Informative Updates on
New Residential Real Estate & Construction News
for Vancouver Island Communities
Oct 28, 2013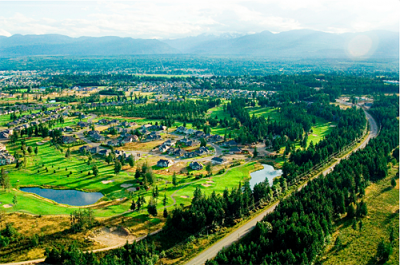 Come for a tee time, stay for a lifetime! That's Crown Isle's motto, and they've now launched their own full-service real estate agency to help make that happen for buyers, sellers, and investors.
"No one knows Crown Isle like we do," says Jason Andrew, director of real estate for the 870-acre Courtenay development. "These are exciting times within the Crown Isle community, so it makes sense to build on our successes and broaden our scope."
Crown Isle Realty Ltd. will be a one-stop shop for property sellers and buyers thinking of building a new custom home at Crown Isle. The agency will also handle other Comox Valley property sales and purchases.
However, the key focus will be Crown Isle itself, where there are currently 900 homes in an area zoned for more than 2,700. Many areas within the estate remain to be developed. Several projects are presently underway or slated to start soon, including:
45 serviced lots at Hampton Gate, with 25 on an extension of Crown Isle Drive;
28 at Northside Ridge, the name of the planned residential development near Costco; and
18 new patio homes by Monterra Builders at the estate's entrance on Ryan Road and Crown Isle Drive.
"We see the potential for accelerated growth in new construction within Crown Isle over the next five years and are making preparations to bring several new subdivisions to the marketplace at a variety of price points," Andrew adds.
New lot prices currently range from $152,500 to $295,000, depending on size and location. Crown Isle Realty's new managing broker, John Waterman, says that after 30 years experience in the real estate business, he's excited to be back at Crown Isle.
"With new and improved programs, partners, and services in place, Crown Isle Realty Ltd. will be able to help people sell their existing property, negotiate a new purchase, oversee construction or renovation plans, and fulfill any other need they may have in the real estate field," he suggests.
The company's licensed realtor, Carla Coulson-Prieto, predicts commercial construction in the area will experience an influx of activity, stimulated by the much-anticipated addition of the hospital located adjacent to Crown Isle.
"It's an exciting time to be a part of creating a real estate agency with a bit of a unique twist to it, one that focuses on and specializes in the Crown Isle community, while also having access to all Comox Valley properties," says Coulson-Pietro. "It also provides an opportunity to allow us to get a bit more creative with the traditional commission structure and ultimately drive more traffic to our listings."
In addition to the new real estate agency, existing departments of Crown Isle Resort & Golf Community and Real Division of Silverado Land Corporation handle new construction and home renovations; landscaping, irrigation and grounds maintenance; and promotion of land development for commercial and residential projects. For more information, visit Crown Isle Realty's website.