Daily Informative Updates on
New Residential Real Estate & Construction News
for Vancouver Island Communities
Oct 05, 2013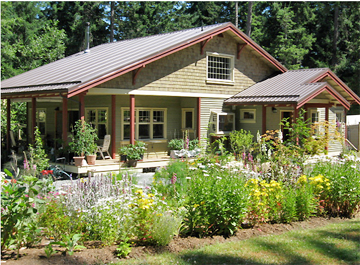 Gower Design Group, a Vancouver Island based residential design firm located in the Comox Valley, believes that a well-designed home is more than just stylish rooms housed in a beautiful exterior. Rather, it should be a space in which your most important relationships take root, grow, and thrive. They've coined this approach to planning a new home "relationship-centred design."
Design Integrity
Design integrity lies at the heart of relationship-centred design. After a client completes a detailed questionnaire, the Gower Design team considers both the structural and aesthetic integrity of the home: how its exterior and interior relate to one another; how it relates to its surroundings; and how it reflects the personality, preferences, and lifestyle of the people inside. None of this is possible without a designer-client relationship based on integrity.
"Our client's needs are of paramount importance to us. We're willing to take the time and care necessary to ensure that our clients are happy throughout the design process and with the finished product," says John Gower, company principal. "We make sure that people end up with the home they want and need, nothing more or less."
Affordability
Some clients are worried that their budget won't be respected or that they'll be up-sold and pushed into spending more money than their budget allows.
"Other clients are concerned that the designer will have a preconceived idea of what their home should look like or that they'll be pushed beyond their comfort zone in a careless way," says Gower. "That isn't our approach. Design integrity begins with careful and respectful listening; we guarantee it."
Client Satisfaction
Clients can attest to Gower Design Group's commitment to design integrity and client satisfaction.
"We've settled in very quickly, and we feel very relaxed and happy here. It feels like our home; everything is the way it should be," says one satisfied client. "You designed an amazing, perfect house that nestles into the landscape and gives us endless opportunities to enjoy this special piece of the world. Thank you!"
Custom Homes and Stock House Plans
In addition to designing carefully tailored single-family custom homes and planning home renovations, Gower Design Group has an extensive portfolio of stock house plans available through BC Mountain Homes. These architecturally distinctive, pre-designed house plans can be modified to suit your needs and lifestyle. From modest to luxurious, each plan is crafted to provide you with a simple, comfortable, yet elegant home that fits your life beautifully. Whether you choose to build a custom home, modify a stock house plan, or renovate your current residence, Gower Design Group will create a living space that's a perfect fit for you, one that nourishes the spirit, the community, and the land.
For more information, call 250.871.8765 (local), 1.877.366.2502 (toll-free), visit their website, or follow them on Facebook. You can also browse and order stock house plans via Gower Design Group's online catalogue.