Daily Informative Updates on
New Residential Real Estate & Construction News
for Vancouver Island Communities
Jan 28, 2021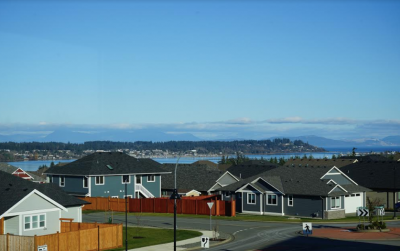 1stView has exclusive details on the newest phase of lots at The Ridge in Courtenay, in the stunning Comox Valley. With 61 lots to choose from in Phase 3B, many of these oversized home sites feature stunning ocean and mountain views, and/or back onto dedicated green space. Choose your builder, choose your lot and then decide on a custom home design and you'll be on your way to living in one of the most beautiful communities on Vancouver Island.
Let's Get Started!
Building a new home on Vancouver Island can be a dream come true for many people. The builders and developer at The Ridge are happy to guide you, step by step, starting with offering you a choice of premier lots in the Comox Valley. The Ridge is a well-established neighbourhood that is surrounded by spectacular mountain and ocean views, and is located close to all amenities. There is a two-acre park, offering play structures and a grassed area for all members of your family to enjoy. Enjoy a stroll down one of the many groomed trails in the community, some of which take you to the ocean's shoreline.
Meet the Builders at The Ridge
The preferred builders at The Ridge offer a variety of home plans for you to choose from, including bungalow styles as well as two-storey homes and homes with walk-out basements. These builders will customize to best suit your family's current and future needs. Consider ideas like media or exercise rooms, fully equipped home offices and study areas, and plans to age in place with insgle storey living and wider hallways and doors. Contact the builders to find out more about lot availability, design options and custom home pricing on these choice lots.
The real estate market in BC is the hottest one in Canada, according to the 2020 MLS statistics. If you have been thinking about building a new home in Courtenay, now is the time to find out more as many of these homes and lots have already sold.
Contact one of the Preferred Builders at The Ridge:

Lawmar Contracting | lawmar.ca
Lawrie McIntyre Phone: 250.338.7637 Email: lawrie@lawmar.ca
Brando Construction | brandoconstruction.com
Realtor: Bill Anglin Cell: 250.703.6119 Email:info@courtneyanglin.com
Coastal Custom Homes | coastalcustomhomes.ca
Dean Vershuur Cell: 250.465.2205 Email: dean@coastalcustomhomes.ca
Candor Developments Inc. | candordevelopments.ca
Isaac Bale Cell: 250.702.7339 Email: info@candordevelopments.ca
Grand Legacy Homes
Wayne Schick Cell: 250.702.2251 Email: wayne@grandlegacy.ca
Smits Construction Ltd. Nathan Smits
250.792.1560 Email: Nathansmits@hotmail.com

For more information on Phase 3B, visit: https://www.theridgebc.com/the-ridge-site-plan/
Jan 06, 2021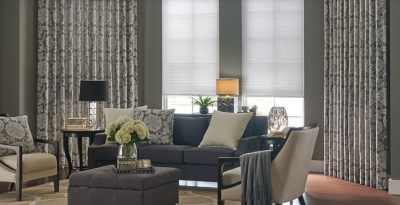 What did you settle on for your New Year's resolutions for 2021? Is it finally time to update your home to usher in a new year? If it's time to ditch the outdated curtain, tattered blinds, or inoperable shades, it's time to call Budget Blinds!
Often we procrastinate on making changes because we don't know where to start. Budget Blinds of Vancouver Island's in-house team of designers is ready to tackle any challenge, and help you find the right style, colour and price point, no matter what your window coverings needs are.
Whether you're ready for a new designer look and elegant curtains for a formal living room, or child safe blinds or shades for a nursery window, Budget Blinds' designers have options for you. Their designers can come to you for a complimentary in-house consultation, or if you prefer, connect on-line for a virtual consultation.
With professional design and installation services, your local and locally-owned Budget Blinds can help you usher in the new year with a new look for your home! Call them today at any one of their three Vancouver Island locations:
Call: 250.924.0249
Call 250.751.8564
250.338.8564
Jan 04, 2021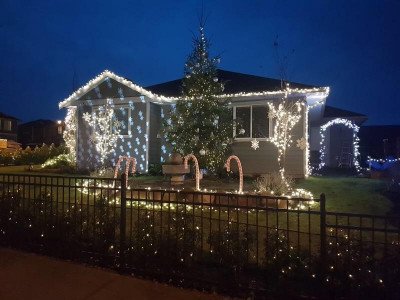 Residents of The Ridge in Courtenay are eager to share why they love living at The Ridge. The sense of community is important in this new Courtenay neighbourhood, and this sense of community was very strong over the holiday season.
When winter nights were dark and gloomy at the end of a challenging year, residents of The Ridge did their best to brighten the spirits of their neighbours and light up the neighbourhood. Christmas lights and decorations were on full display throughout the community. Residents at The Ridge went above and beyond and created a festive Christmas atmosphere.
The first of what will become and annual Christmas decorating contest was born when a few residents banded together to acknowledge the neighbours who put extra effort into decorateing their homes for the holiday season. A few residents were surprised when they received acknowledgment of their efforts in the firstsurprise Christmas contest held at The Ridge.
The residents from these homes were surprised and happy to receive a small gift towards their efforts, as no official Christmas Lighting Contest had been declared. Now it is official! There will be annual lighting contests moving forward at The Ridge. It is an event that will bring out a friendly competition amongst the residents for years to come and promotes the community for everyone to enjoy.
Establishing this neighbourhood contest, inspired by the actions of others in their community, is one of the many reasons The Ridge is such a welcoming place to call home.
In the summer the community hosts an annual block party in the park, and on a daily basis friends and neighbours stop to chat, go for walks, play in the park, and enjoy the neighbourhood and the people in it.
If you're ready to make the move to a friendly, welcoming Courtenay community, visit TheRidgeBC.com and learn more about lots now available in Phase 3B and the preferred builders working at The Ridge.