Daily Informative Updates on
New Residential Real Estate & Construction News
for Vancouver Island Communities
Oct 29, 2018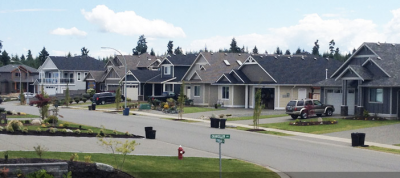 The new housing development at The Ridge in Courtenay continues to grow as they now have Phase 3 under construction. Paving and street lighting installation is now nearing completion. Registration on Phase 3A, which consists of 48 residential lots, will be completed by mid-December, and new homes will be under construction once registration is complete.
Zoning at The Ridge allows for secondary suites to be built as part of all single-family lots in this development. These south Courtenay building lots feature views of the Comox Glacier, the Island and Mainland mountains, and ocean views of Comox Bay. Almost 100 new homes have been completed in Phases I and 2 and more homes are still under construction.
Purchasers at The Ridge can choose to work with one of their preferred new home builders to build a home, or choose their own builder. Residnets enjoy living in this qiet community in the Comox Valley - The Ridge is close to beaches, walking trails and Courtenay city centre. Located in South Courtenay, on Vancouver Island, The Ridge is a welcoming neighbourhood located close to everything in the Comox Valley.
Interested in finding out more about this beautiful part of Vancouver Island? Contact The Ridge to register as a "prospective client" and receive up-to-date information on the new residential lots for sale in Phase 3 at The Ridge.
For more information:
Bruce Clapham at 250.650.8588
Email: theridge.bruce@mail.com