Daily Informative Updates on
New Residential Real Estate & Construction News
for Vancouver Island Communities
Apr 28, 2015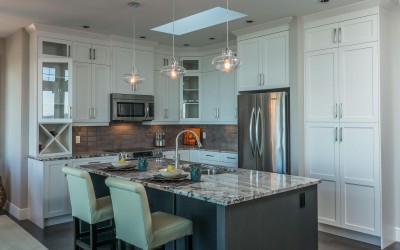 Two luxury patio homes are currently for sale at the Gales in Ladysmith on Vancouver Island. Built to Build Green® Platinum specifications with many of the latest energy efficient features, these single family homes for sale also offer the option to choose design and colour features to customize your home before move-in.
These new homes for sale at the Gales offer three-bedroom and three bathrooms with 3,000 sq. ft. of space on Farrell Road in Ladysmith. Both homes boast a modern floor plan designed to take full advantage of the views, and all the best in quality and environmentally sensitive materials and construction techniques. At #9-626 Farrell Street you will find custom floor to ceiling cabinetry, granite countertops, and island with built in sink and eating bar (MLS Listing #387544).
Residents at The Gales also enjoy a maintenance free yard. The Gales is a strata complex, and they take care of the yard work for you. The Gales recently received an independent assessment as part of government regulations concerning depreciation, and received an excellent rating for funding for maintenance and repairs.
To schedule a viewing or stop by the Open House 11 am to 3 pm seven days a week:
Contact
Location: Ladysmith, on Vancouver Island
Address: 410a 1st Ave, Ladysmith, BC V9G 1A9
Phone: Keith Mazurenko, REALTOR® 1.866.315.0545
Website: www.thegales.ca
Contact Us