Daily Informative Updates on
New Residential Real Estate & Construction News
for Vancouver Island Communities
Mar 28, 2014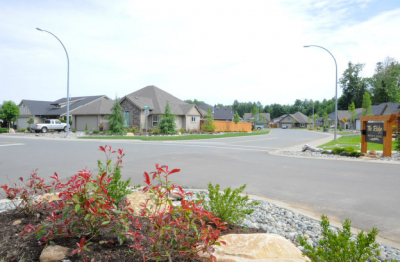 Open House for New Ranchers from 1:00 p.m. to 3:00 p.m. every Saturday at The Ridge at RiversEdge in the Comox Valley.
The Ridge at RiversEdge is home to 24 single-family ranchers in a pre-planned community in Courtenay. Like all Southwind Developments projects, this new Vancouver Island real estate project - The Ridge at RiversEdge - is designed, developed, and built by the same close-knit team throughout the construction process. This means that the foreman is on-site from the beginning to the end of the project, and the same crew that breaks ground on your home will be responsible for its finishing touches.
Your investment is protected by a registered Homeowner Schedule of Restrictions, designed to enhance quality of life and increase your home's future value. In addition, the owners of Southwind Homes actually live at RiversEdge. When developers live in a neighbourhood, you can feel secure knowing they'll be there for any issues that arise during the 10-year warranty period.
The new ranchers at The Ridge at RiversEdge in Courtenay are also the lowest-priced new homes anywhere in the Comox Valley. Considering the quality of workmanship and materials, Southwind provides the best real estate options for your money.
Your RiversEdge Specialist is Realtor Art Meyers of Royal of LePage in the Comox Valley. For more information, call Art at 250.207.1879. You can also view a site plan, information package, slide show, virtual tour, and more online.