Daily Informative Updates on
New Residential Real Estate & Construction News
for Vancouver Island Communities
Sep 27, 2018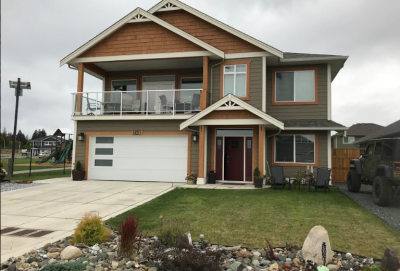 Residents of The Ridge have a lot of reasons to love their neighbourhood. Hear from one couple about why they love their new community:
"We have lived in the Comox Valley for 20-plus years and had never been to The Ridge community until 2013 when we took the time to explore this otherwise empty space with recently constructed roadwork and just a couple of houses. We immediately fell in love with The Ridge."
A few years later, the couple was ready to build their new home.
"As we built our property, we often found ourselves walking through the community to observe the new homes being constructed. It was the genesis of getting to know not only our neighbourhood but our neighbours as well. The subdivision was growing but that seemed to only add new friends to the bonds we had already kindled. It is not uncommon for neighbours to be relaxing in their front yards only to be joined by friends for impromptu social gatherings.
"The developer Bruce Clapham really cares about creating a community neighbourhood at The Ridge and has donated funds for our annual block party for the past two years. This event has brought neighbours together and has helped immensely to create bonds and make the community feel like a large extended family.
"We are minutes from town, yet it feels like we are living in a rural setting. There is no thru traffic here and no overhead wires to spoil our great views. We even got to watch the BC Day fireworks from our deck. We are glad that not everyone knows where The Ridge is, but if you're lucky enough to find us, you will feel like you have lived here your entire life."
To learn more about this ocean and mountain view master-planned community in South Courtenay, visit TheRidgeBC.com.