With Homes Sales Booming Now is the Time to Get Started on Your Custom Home at The Ridge
Posted: Oct 29, 2020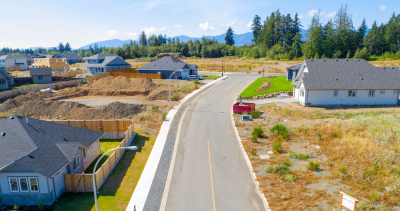 New home construction and sales activity has jumped significantly during the past few months at The Ridge in the Vancouver Island community of Courtenay, B.C.
All of the homes in Phases 1 and 2 now have sold. Remaining homes in Phase 3A are selling very quickly. If you're ready to build a new home at The Ridge now is the time to spring into action! If you've considered the possibility of living at The Ridge, the developers are urging you to solidify your plans with one of their builders and start work on the custom home of your dreams.
Several custom homes built for new residents have included a secondary suite, which the zoning allows, to accommodate family members or renters. A secondary suite of up to 937 sq. ft. within The Ridge neighbourhood will generate a monthly income of approximately $1,800 per month.
At this time, there are still new homes left for sale by the preferred builders at The Ridge. Please note that the real estate market is very fluid at this time and availability may change quickly. For more information regarding homes for sale, contact any one of these preferred builders:
Preferred Builders at The Ridge:
Lawmar Contracting | lawmar.ca
Lawrie McIntyre Phone: 250.338.7637 Email: lawrie@lawmar.ca
Brando Construction | brandoconstruction.com
Realtor: Bill Anglin Cell: 250.703.6119 Email:info@courtneyanglin.com
Coastal Custom Homes | coastalcustomhomes.ca
Dean Vershuur Cell: 250.465.2205 Email: dean@coastalcustomhomes.ca
Candor Developments Inc. | candordevelopments.ca
Isaac Bale Cell: 250.702.7339 Email: info@candordevelopments.ca
Grand Legacy Homes
Wayne Schick Cell: 250.702.2251 Email: wayne@grandlegacy.ca
Please note that availability is subject to change without notice.
Related Resources & Links