Lawmar Contracting Building For Happy Homeowners at The Ridge
Posted: Jun 25, 2016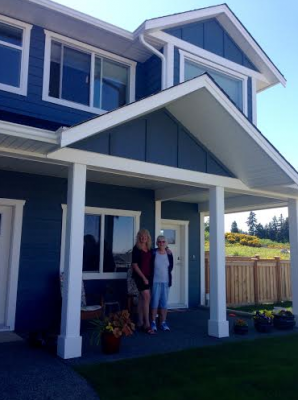 "I was looking for a home where my mom could move in with me and we learned that The Ridge allowed legal suites to be built within the subdivision. We went to see The Ridge and fell in love with it. This is a quiet neighbourhood with beautiful views and pathways and parkways for walking. There are excellent trails for biking and we are located walking distance to the ocean. It feels like we are living in the countryside within the city.
We contact Lawrie McIntyre from Lawmar Contracting to build our house because we knew of his background and excellent reputation as a custom home builder in the Comox Valley. We moved in a few months ago and we really enjoy living here. We love our neighbours too, they are fantastic! "
Brenda and Jean, Courtenay, BC
Lawmar Contracting is excited to announce that their new show home is now open 5 days a week:
Wednesday
through
Sunday
from
11:30 a.m. until 4 p.m.
The show home is located at: 4087 Chancellor Crescent in Courtenay, BC
Please note that this blog entry was published more than three months ago. Some details may be outdated.
Related Resources & Links