Find Your New Home At The Ridge in Courtenay, B.C.
Posted: Jun 27, 2020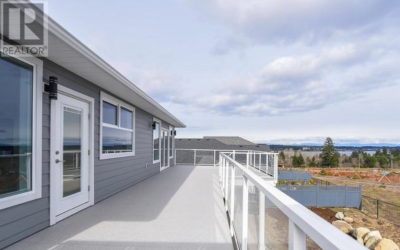 The Ridge new home development on Vancouver Island offers new residents an opportunity to enjoy the supernatural beauty of Vancouver Island just steps from their front door.
Located just minutes from the heart of Courtenay on Vancouver Island, BC, The Ridge is a residential community, offering building lots and new homes for sale. Phases 1 and 2 have sold out and more than 125 new homes have been built. New residents from BC, Alberta and beyond are thoroughly enjoying living at The Ridge.
The preferred builders at The Ridge currently have many new homes to choose from in Courtenay, B.C. Brando Construction is one of the original builders working in this community. They have built more than 60 homes in The Ridge and currently have the following homes for sale:
4088 Chancellor Crescent, Courtenay, BC
Impressive ocean and mountain views are stunning from this 2,675 sq. ft., 4 bedrooms, 3 bathroom home. This is truly a family-friendly home, offering a great room on the main floor and an additional family room on the upper floor. This home comes with a two-car garage and it is completely landscaped and ready for occupancy. Price: $799,000
3360 Harbourview Blvd, Courtenay, BC
This 2,159 sq. ft. two-storey home has 3 bedrooms and 3 baths and it has the perfect floorplan for a family. Highlights include a tiled gas fireplace in the great room, quartz countertops throughout the home and all of the kitchen appliances are included in the purchase price. Enjoy your two-car garage and fully landscaped yard, complete with underground sprinklers. This home will be ready for occupancy in July of 2020. Price: 649,900
For more information on these two homes for sale by Brando Construction, contact:
Courtney & Anglin Real Estate Group, REMAX/OCEAN PACIFIC REALTY
Email:info@courtneyanglin.com
Realtor: Bill Anglin Cell: 250.703.6119
Realtor: Michele Courtney Cell: 250-703-1571
Are you interested in building a custom home at The Ridge? Find out more information about available lots and other homes for sale in Phase 3A.
Contact Bruce Clapham
Phone 250.650.8588
Email: theridge.bruce@mail.com
Related Resources & Links