Window Covering Trends From the Budget Blinds Designer Rebeccah Kurucz
Posted: Sep 13, 2019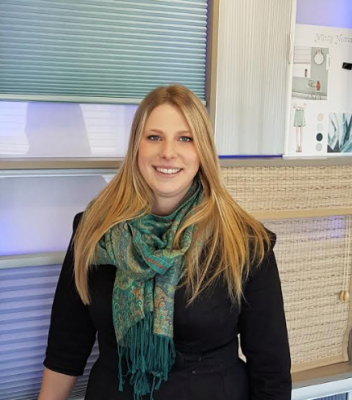 Budget Blinds on Vancouver Island offers in-home consultations with designers who can help you find the perfect window coverings for your home. This month we feature a spotlight on designer Rebeccah Kurucz.
Rebeccah is an "old soul" with a very cheerful and enthusiastic disposition.
She grew up working in her family's business in Port Alberni, before pursuing her passion attending school for interior design. She worked for several years at a design firm before making the transition to Budget Blinds.
"Window coverings play such an important role in the overall look and feel of your home," says Rebeccah. "I wanted to work more closely with my customers and assist them to put those finishing touches into their homes. Helping my clients to make their homes look beautiful is truly rewarding, and I love being a part of the whole process."
Rebeccah says her favorite window covering look currently is roller shades with drapery.
"The simplistic, hard lines of a quality roller shade coupled with soft, flowing, cascades of drapery can transform a space. Of course, every home is different so it's fun to play with colour and texture to make it unique."
The biggest trend she is seeing is a return to soft window coverings.
"Many of my clients are moving back to soft treatments. They have been pairing traditional blinds with a Roman Shade in the kitchen as well as adding decorative panels to soften their windows. Soft fashions are back!"
Outside of work, Rebeccah loves to spend her time outdoors.
"Basically, if it is outdoors I'm into it! I really love camping and hiking! I love being around the water. I love the ocean, the rivers and the lakes that are all so close. The Island allows you to enjoy nature all year round.
"I also am a huge sports fan and am very passionate about interior design!"
Book an appointment today to meet with Rebeccah and review the latest trends and design options for your home and lifestyle.
How does it work? A design consultant will come to you and bring samples that you can view in the comfort of your home. They will help you choose your window coverings, and professionally measure. Once ordered, your window coverings will be installed by one of Budget Blinds' experienced on-staff installers.
Budget Blinds of Nanaimo and Oceanside is locally owned and operated. The staff is a close-knit group of people, who live locally, have a passion for Vancouver Island living and look forward to making your experience the best it can be.
Please note that this blog entry was published more than three months ago. Some details may be outdated.