Daily Informative Updates on
New Residential Real Estate & Construction News
for Vancouver Island Communities
Apr 10, 2023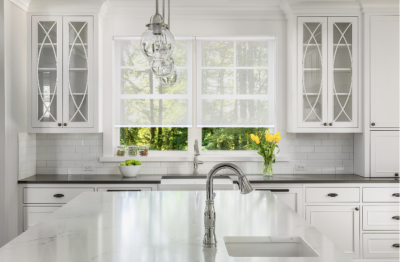 Our Vancouver Island weather varies dramatically from season to season, and depending on the direction your rooms face, that variability can be even more impactful. Your home's direction impacts how and when the sun hits each room and this can mean big changes in heat and light, depending on the season and direction each room faces.
South-facing windows
If your home faces South, it may have higher energy bills in the summer. Direct sunlight from the south causes heat to build up, forcing the AC to work harder. However, it may also be warmer in the winter for the same reason.
Southern exposure makes a room cozy in the winter. The addition of shades to the window allows the option to raise the shades and enjoy the sun's warmth during those chilly winter months. However, it can also make summer too hot or bright without the right window treatments. That's why it's essential to work with a professional window treatment designer to determine which product will work best for a southern-facing window.
North-facing windows
Windows that face north receive natural light all day but don't receive direct sunlight. Interior shutters are a great way to take advantage of the indirect sunlight from north-facing windows. Their louvers can let in as much or as little light as you like while the cordless design looks clean and uncluttered in kitchens, bathrooms, and home offices.
Alternatively, sheer curtains add gentle textures and patterns to your interior decor without restricting sunlight. In daylight, pulling sheer drapes across the window allows the indirect sunlight to shine through and highlight the design. Adjust the blinds or shade behind the drapes to add privacy or control the light.
East-facing windows
An east-facing window will catch the early sun, which can appear bright and glaring in the morning, and diffused and delicate later in the day. Dark colors will seem gloomy, but light colors and sheer materials bring out the softness of the sunlight.
Morning sunlight is welcome in a kitchen or living room, but it can be an annoyance in a bedroom. The best way to deal with morning light is to customize your window treatments to get exactly the amount of light you want.
West-facing windows
On summer afternoons, west-facing windows can cause heat to build up. To keep the room comfortable, make sure to keep them covered. Like with south-facing windows, you don't want to lose all the natural light you get from west-facing windows, but you also need to deal with glare and heat. Blinds are a great choice because you can change their angle as the sun moves, diffusing light without blocking it out.
Energy efficiency
Most energy-efficient window treatments use layers of fabric to improve insulation and control light in the room, keeping it cool in the summer and warm in the winter. Whether you like shades, drapes, blinds, or shutters, there are many energy-efficient window treatment choices.
To prevent UV rays from damaging your furniture and decor, consider solar shades or try UV-resistant window film if you prefer a clear view but don't want to risk damage to your decor.
Motorization
Motorized window treatments will help you avoid continually moving the position of your blinds. With various sensors and timers available, they can be programmed to change on their own based on the sun's position to give you the perfect lighting without lifting a finger.
Regardless of your home's direction, Budget Blinds can help you find window treatments that make sense for your home.
Request a free in-home or virtual consultation from your local Budget Blinds design experts to get started.
Cowichan Valley
Call: 250.924.0249
Nanaimo-Oceanside
Call 250.751.8564
North Island - Courtenay
250.338.8564