Top 10 Reasons to Make the Move to The Ridge in Courtenay
Posted: Apr 17, 2021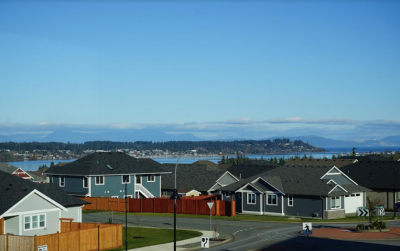 The residents of The Ridge often have told us what they love about their community and here are some of their thoughts:
"Life at The Ridge is very family-friendly, there is a nice mix of young families who interact with each other, retirees and other residents of all ages. The community is being built to a high standard and there is a relaxing atmosphere in the neighbourhood. We love living at The Ridge!"
Brianna and Jeremy
"The area surrounding The Ridge is so beautiful, and we love walking around the many trails here and seeing the mountains and the ocean, it is like living in paradise: we see trumpeter swans, Canadian geese and eagles flying right over our house. Plus it is so close to many top-rated golf courses"
Jim and Donna
"I was looking for a home where my mom could move in with me and we learned that The Ridge allowed legal suites to be built within the subdivision. We went to see The Ridge and fell in love with it. This is a quiet neighbourhood with beautiful views and pathways and parkways for walking and biking. We are located walking distance to the ocean. It feels like we are living in the countryside within the city."
Jean & Brenda
Here are the top 10 reasons to consider making the move:
The ocean and mountain views are stunning.

A large park located within The Ridge.

A quiet community with no thru traffic.

No overhead wires to affect your views.

Pedestrian friendly, with wide sidewalks throughout the neighbourhood.

Easy access to nearby forest trails and the ocean.

Close proximity to amenities and shopping.

Generous sized residential lots.

Welcoming neighbours.

Mild Pacific climate.
Contact their preferred builders for more information on available lots in Phase 3B.