The Ridge in Courtenay is Home to Families of All Ages
Posted: Oct 12, 2020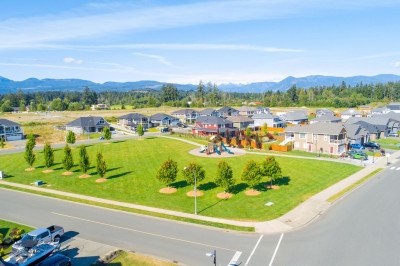 "We love living here!" is a phrase that at 1stView, we hear over and over from residents of The Ridge, a family-friendly neighbourhood, now selling Phase 3 homes and lots in Courtenay, B.C.
This remarkable multi-generational community is made up of young families, empty nesters and seniors. And with many of the homes featuring secondary suites, many of generations of one family can live together.
The Ridge has designed this development with community in mind. One great example is the centrally-located, grassy park. Younger kids love spending time on the playground, while the tweens and teens, and even the adults, enjoy a game of soccer, frisbee or just tossing the ball around. It is a meeting point for everyone to enjoy. If you are new to the community, you will be welcomed with open arms.
Brianna and Jeremy have shared their experience living at The Ridge with us. Here is just part of their story:
"Last night we went to the local park here, only a few minutes from our home and there were four other families at the park. The kids ran towards each other and played together and we had a visit with the neighbours….. we all know each other's names, the children's' names and we even know the dogs' names! Our children feel very comfortable going to the park, and we know that they are safe in our neighbourhood. We visit the park daily and sometimes multiple times on the same day. We feel a great sense of community here.
"Life at The Ridge is very family-friendly, there is a nice mix of young families who interact with each other, retirees and other residents of all ages. The community is being built to a high standard and there is a relaxing atmosphere in the neighbourhood. We love living at The Ridge!"
Moving to The Ridge gives you the flexibility to buy or build the rigt style of home for your family. Choose from the many housing styles at The Ridge including: rancher/bungalow-style homes, two-storey homes, homes with walk-out basements or a home with a secondary suite or carriage home. A patio home development is also under contruction. The square footage of your home can vary, starting with a smaller home at 1,375 sq. ft. up to as large as you want. Some of the bigger homes contain a secondary suite more than 900 sq. ft.
The secret is out about The Ridge! This is one of the best new neighbourhoods in the Comox Valley to live in. Now is the time to explore this amazing, one-of-a-kind community on Vancouver Island. New homes are selling quickly in Phase 3A. If you are interested in purchasing a new home or building a custom home at The Ridge, please get in touch with one of their preferred builders.
If you are interested in receiving more information about The Ridge, please contact: Bruce Clapham:
Email: theridge.bruce@mail.com
Please note that this blog entry was published more than three months ago. Some details may be outdated.
Related Resources & Links