New Window Coverings From Budget Blinds Are an Easy Upgrade
Posted: Feb 27, 2021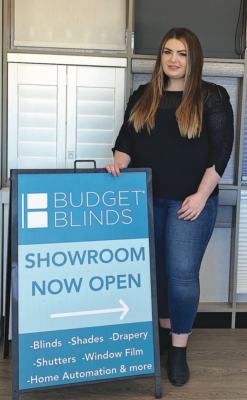 Spending so much time in our homes over the past year has encouraged a lot of investment into our living spaces, according to Chloe Traviss, style consultant with Budget Blinds in Campbell River.
"Everybody is spending so much time in their homes right now," she recently told the Campbell River Mirror. "So it's becoming more and more important for them to make those spaces beautiful. With people travelling less and being home more, I've really noticed they seem to be upgrading their spaces at an even higher rate than they were before."
And one of the easiest ways to upgrade your space is with new window coverings.
"Window coverings are also one of the only options you have when improving your interior space that also improves your home's curb appeal," Traviss says. "So it's also a great investment in your home and people are really taking advantage of that."
But "investment" doesn't need to be a daunting word - even small improvements make a huge difference to the feel of your room, Traviss says.
"A lot of people just want to do a little something in their home," she says, "and we really have products for all budgets."
Not only that, but she'll bring them to you so you don't even have to go to the store to check them out. While Budget Blinds' physical store is on Kilpatrick Avenue in Courtenay, Traviss is a mobile window covering resource for the North Island.
"I have everything in my vehicle to do free in-home consultations, measure all their windows, and discuss blinds options with samples that I can show them inside their home, which is huge, because everyone's paint and views and light is different, so blinds can look completely different in one home versus another, or in our showroom."
Traviss says that's another thing she's seeing these days: Supporting local and getting a personalized level of service has seemingly never been more important to people. While Budget Blinds has alwasy provided high levels of service, they're also now focussed on keeping their staff and customers safe with Covid-19 protocols in place.
Your local and locally-owned Budget Blinds can help with a new look for your home! Call them today at their North Island - Courtenay store at 250.338.8564.
Or down-island contact your closest location:
Call: 250.924.0249
Call 250.751.8564
Please note that this blog entry was published more than three months ago. Some details may be outdated.
Related Resources & Links