Meet Budget Blinds Style Consultant Chloe Traviss
Posted: Sep 29, 2021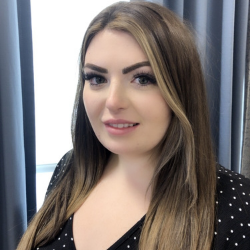 Budget Blinds on Vancouver Island is proud to offer complimentary design consultations to help you sort through all of your window covering options.
Budget Blinds' design professionals will help you find the exact right fit for your windows! In Campbell River, customers can meet with Chloe Traviss.
Chloe is a style consultant at Budget Blinds with many years of interior design experience. She started her design career with a sub-specialty in kitchens and home staging. Chloe has experience working on both new construction as well as renovations of all sizes.
Chloe lives in Campbell River with her husband, daughter, and their new puppy. In her free time you can find Chloe at the ocean or exploring the beautiful outdoors Vancouver Island has to offer.
Chloe is looking forward to building relationships with our new and past clients while bringing beautiful window coverings to the many homes of Campbell River. For all of your window covering needs, set up a free in-home consultation with Chloe and explore all of your options - from draperies, to shades, shutters, window film, home automation and more. Chloe will professionally measure your windows and leave you with a free quote, all from the comfort of your own home.
Additional Covid Safety measures are in place, and virtual consultations are also available.
Contact Chloe and the Campbell River team via the North Island location:
North Island - Courtenay
250.338.8564
Please note that this blog entry was published more than three months ago. Some details may be outdated.
Related Resources & Links