Get a New Look For the New Year, With Help from Budget Blinds on Vancouver Island
Posted: Jan 06, 2021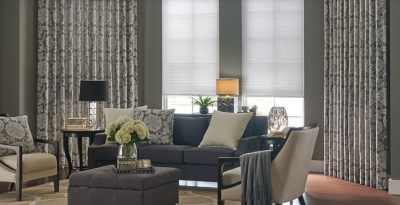 What did you settle on for your New Year's resolutions for 2021? Is it finally time to update your home to usher in a new year? If it's time to ditch the outdated curtain, tattered blinds, or inoperable shades, it's time to call Budget Blinds!
Often we procrastinate on making changes because we don't know where to start. Budget Blinds of Vancouver Island's in-house team of designers is ready to tackle any challenge, and help you find the right style, colour and price point, no matter what your window coverings needs are.
Whether you're ready for a new designer look and elegant curtains for a formal living room, or child safe blinds or shades for a nursery window, Budget Blinds' designers have options for you. Their designers can come to you for a complimentary in-house consultation, or if you prefer, connect on-line for a virtual consultation.
With professional design and installation services, your local and locally-owned Budget Blinds can help you usher in the new year with a new look for your home! Call them today at any one of their three Vancouver Island locations:
Call: 250.924.0249
Call 250.751.8564
250.338.8564
Please note that this blog entry was published more than three months ago. Some details may be outdated.