Calm or Colourful? 2023 Colours of The Year Offer Options
Posted: Nov 18, 2022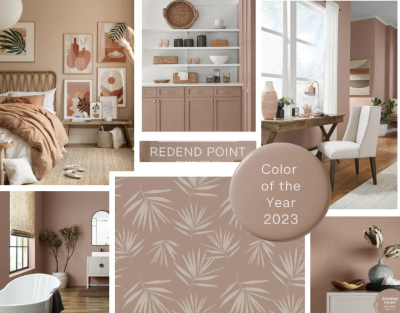 Bold or Subtle? The choice is yours, with this year's leading paint producers announcing their colours of the year. And as always, once you've made your choice, your local Vancouver Island Budget Blinds stores are ready to help you incorporate your colours into your home!
The colours and messaging behind the selections this year from Sherwin Willams and Benjamin Moore offer striking differences. Sherwin Williams selected Redend Point, a subtle neutral that will appeal to a minimalist design aesthetic. On the other hand, Benjamin More chose the bold, bright, "look at me" colour of Raspberry Blush, sure to appeal to those not afraid to use colour.
"Redend Point is a heartening hue that invites compassion and connection into any space," said Sue Wadden, Director of Color Marketing at Sherwin-Williams when annoucing the colour selection. "The colour is a natural choice for those looking for a warm and joyful neutral in both interiors and exteriors. Build on its earthiness by utilizing the hue alongside natural-looking textiles and wood accents—or create a desert oasis by layering shades of terra-cotta and clay materials."
Budget Blinds Inspired Shades Collection features woven shades with refined textures and natural fibers that perfectly complement Resend Point. Add white or natural linen sheer drapery panels to complete the look.
Unlike the subtle choice by Sherwin Williams, Benjamin Moore's pick for the 2023's Colour of the Year is the vibrant Raspberry Blush. The saturated shade energizes a room for a bright, charismatic look that's anything but subtle!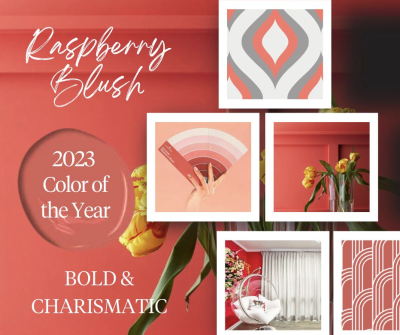 After years of neutrals and grays, "People are ready to bring colour back into the home, taking a step outside their colour comfort zones," said Andrea Magno, Color Marketing and Development Director at Benjamin Moore. "Raspberry Blush empowers the use of statement colors that deliver delight and personality while transforming rooms for incredible results."
Are you ready for raspberry walls and ceilings? For the maximalist, envelope a room in Raspberry Blush from the walls to the trim and the ceiling to wrap a room in an optimistic boldness. If that's too bold of an option for you, make a smaller impact statement on a kitchen island or add a pop of Raspberry Blush in pillows or accent decor. Soft shades of gray, white, and beige balance the bright hue.
Or mix it with colours from the rest of Benjamin Moore's 2023 palette, which includes a range of saturated tones varying from a deep blue to a sultry green to more rich chocolate and cinnamon hues. For Magno, all of these share one unifying commonality: "They're all happy. And we all need a bit of that right now."
Your home is a place to express your personality and feature the colours and décor you love. It should be your happy place! That is why Budget Blinds offers a range of products. From soothing neutrals and minimalist modern roller shades to rich fabrics in bold colours for drapes.
Plus, did you know they can create a one-of-a-kind custom fabric to match any colour? Budget Blinds' exclusive DesignINK program allows your local Budget Blinds to create a fabric to match any paint colour you like. Schedule a complimentary in-home consultation with your local Budget Blinds today to learn more.