Make the Move to The Gales in Ladysmith
Posted: Sep 19, 2017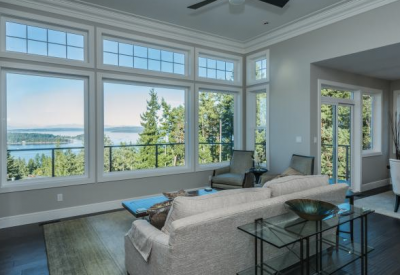 What would prompt you to move across the country for the perfect home? Sometimes the reason is obvious - a stunning new home with ocean views in a friendly Vancouver Island town. All of this makes moving to The Gales in Ladysmith an easy choice.
One couple shared with 1stView how they picked The Gales.
"We found The Gales after years of looking," said this couple, who moved from Ontario. "Our visitors tell us we have a "Million Dollar View" and we agree. The hilltop terrace design gives us a beautiful panoramic view overlooking Ladysmith Harbour and the nearby islands, with the scenic Coastal Mountains in the background.
"We never tire of watching the world go by from our bedroom, kitchen, dining or living room windows. You never know what you may see from resident eagles, to killer whales visiting the harbour. All of these scenes are beautifully framed in large picture windows in rooms with soaring ceilings. The skylight in the kitchen adds to the bright open atmosphere in a great layout.
"There is so much to do in our small town, and on the island. We are also within a short commuting distance of two major city centres. We feel very lucky to call this wonderful place home."
If you would like to experience the homes at The Gales for yourself, contact Realtor Keith Mazurenko to learn more about the new patio home currently listed for sale.
: 1.866.315.0545
: 250.245.0545
: kmazurenko@shaw.ca
: http://www.thegales.ca
Please note that this blog entry was published more than three months ago. Some details may be outdated.
Related Resources & Links