Clients Wishes at the Heart of Capstone Dwellings' Design-Build Process on Vancouver Island
Posted: Jan 19, 2012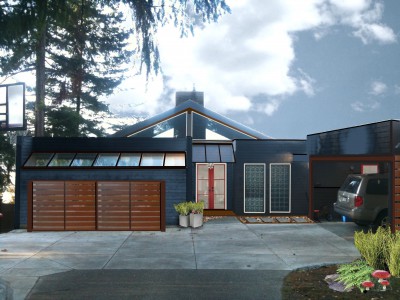 Capstone Dwellings Design-Build can bring your unique personality to renovations and custom homes in the Comox Valley.
Designer Bethany Pearce focuses on a design process that begins with the core desires of her clients. Often, home owners who are wanting to renovate or build a custom home have a hard time defining what they want. At the same time, they often have very strong options on what they like and don't like. Through the design process, Bethany takes a close look at the needs, wants and rules for each project and creatively brings the pieces together for design proposals that have an authentic end result.
As shown here, this modern home is in need of some updates. The client found that they were undecided between their love for modern design, and their desire to live in a creative and free space full of movement and detail.
Designer Bethany Pearce had her client gather images of thoughts to represent how she was feeling about the direction of the project. From that resource of visuals, Bethany began piecing together core elements that would not only work together, but also bring about a solid and meaningful theme.
The end result was a design direction Bethany labeled "Modern Whimsy". The core moods that emerged were Romance, Fun, Whimsy, and Enchantment. Elements of distressed or reclaimed wood emerged, as well as textures like velvet and high-gloss paint. Even the colour palette that came from this process looks like something out of Snow White's forest – full of enchantment, magic and playful childhood imagination.
Contact Bethany Pearce of Capstone Dwellings Design-Build at 250-331-9004 to discuss your upcoming project in Courtenay, Comox, Campbell River and other communities around the Comox Valley.
Please note that this blog entry was published more than three months ago. Some details may be outdated.
Related Resources & Links