Call Budget Blinds' Designers for a Free Consultation Today
Posted: Nov 13, 2021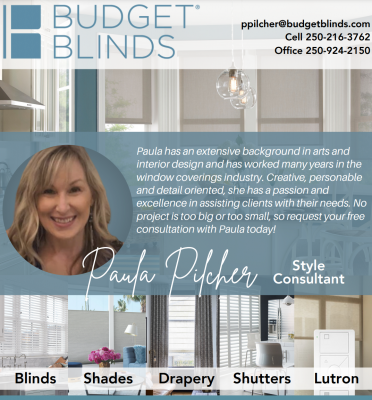 Designing any new element of your home can be overwhelming - and frustrating if you don't have a designer's eye, or a handyman at home!
If you're looking to update your window treatments or technology, talk to the experts at Budget Blinds of Vancouver Island. With in-house design consultants and professional installation your home updates can be beautiful, stress free and completed on budget.
Paula Pilcher is one of Budget Blinds' style consultants. Her complimentary services can be in-home or virtual. Paula has several years of experience in the arts, and in design. She has worked for many years in the window coverings industry, and brings a passion for assisting her clients in finding the perfect products.
And always remember - no project is too big or too small for Budget Blinds' consultants, and the consultations are always free. Whether you're updating a whole house or a single room, Paula and the other consultants are ready to help.
Budget Blinds offers products for every budget - from high-end designer window coverings to budget friendly options for every room in your home.
Contact your local - and locally owned - Budget Blind today!
Call: 250.924.0249
Call 250.751.8564
250.338.8564
Please note that this blog entry was published more than three months ago. Some details may be outdated.
Related Resources & Links