The Battery Shop in Courtenay Sells, Repairs and Recycles Batteries on Vancouver Island
Posted: May 29, 2012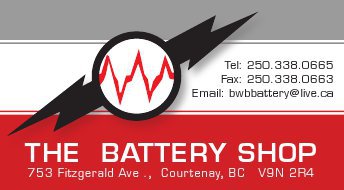 The Battery Shop is Vancouver Island's one stop shop for batteries and battery services.
The Battery Shop in Courtenay sells batteries of all styles – from camera batteries to RV and golf cart batteries. The Battery Shop also repairs and rebuilds specialty batteries for construction tools, home appliances, specialized trades equipment, security systems and more.
The Battery Shop has the equipment and expertise to create custom batteries. They also offer a battery recycling service for the Comox Valley. Call The Battery Shop at 250.338.0665.
Please note that this blog entry was published more than three months ago. Some details may be outdated.