Get Ready For Winter with Budget Blinds
Posted: Sep 28, 2022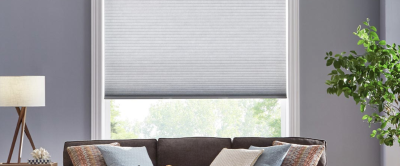 Cooler weather will be here before we know it. Now is the time to prep your home to avoid sky-high heating bills this winter.
As much as 50% of a home's heating (and cooling) energy can be lost through windows. Energy efficient window treatments can make a signifant difference to help conserve energy.
Look to Budget Blinds for a number of great solutions that will look great, and save you money year-round.
Modern options include:
Cellular shades, also known as honeycomb shades, combine the soft look and energy efficiency of window shades with the functionality of horizontal blinds.

Layering your curtains or drapery

with light filtering or room darkening liners to control light gaps and improve insulation retention.

Traditional wood shutters

use an insulating design that helps make indoor spaces cooler in summer and warmer in winter, keeping your room at an ideal temperature.

Window film

deflects up to 99% of damaging UV rays, reducing heat gain and protecting your furniture against harmful UV damage.

Floor-to-ceiling drapes

that fold back against the wall. This allows the drapes to seal off the window, preventing drafts and loss of heat through convection.
Learn more about all of the options at your local Budget Blinds on Vancouver Island:
Cowichan Valley
Call: 250.924.0249
Nanaimo-Oceanside
Call 250.751.8564
North Island - Courtenay
250.338.8564