Daily Informative Updates on
New Residential Real Estate & Construction News
for Vancouver Island Communities
Dec 15, 2009
Tickets are now available for the 1stView Annual Construction and Real Estate Forecasting and Economic Event for 2010. Mark Holland from HB Lanarc Consultants will be talking about "The Business Case for Sustainable Business Practices". Other guest speakers include Travis Archibald from Canadian Mortgage and Housing Corporation, Marty Douglas from Coast Realty Group and Clarice Coty from Building Links and 1stView. This event takes place on Thursday, January 21 with networking starting at at the Coast Westerly Hotel in Courtenay. This event is sponsored by Jackson and Associates and Presley & Partners. To purchase tickets ($55 each plus GST), go to http://www.1stview.ca/forum/ or call 250.338.5466. Be sure to get your tickets soon, this event always sells out.
The Economic Forecasting Event for 2010 has Sold Out!

Thank you everyone. See you on the 21st!
Dec 14, 2009
Mortgage Centre Comox Valley has announced the following updated mortgage rates for Vancouver and Vancouver Island homes as of December 11, 2009.
1 Year Closed is 2.35% - 2 Year Closed is 2.95% - 3 Year Closed is 3.25%
5 Year Closed is 3.89%* Available for properties located in the Greater Vancouver or Victoria area. Best rate is 3.94% in all other areas.
7 Year Closed is 4.45% - 10 Year Closed is 5.30%
Dec 14, 2009
NANAIMO, BC –
Single family unit sales
following the usual seasonal trend are down 21% in November 2009 over the previous month but surpassed November 2008 levels by 105% on a Board wide basis. The average sale price meanwhile is 3% below November 2008 according to Multiple Listing Service® (MLS®) sales summary data released by the
Vancouver Island Real Estate Board (VIREB)
for November 2009.
There were 357 single family unit sales across the VIREB region in November 2009.
The average sale price across the VIREB region comparing November 2009 to November 2008, was $335,192, down 3% from the $346,364 posted in November 2008 but very close to the October 2009 average price of $332,897.
For the period comparing data from the end of November 2008 to the end of November 2009, average sale prices in the Vancouver Island Real Estate Board's six zones saw: Campbell River increase 13% (to $311,045), the Comox Valley increased 9% (to $346,475), Nanaimo is down 6% (to $360,328), Parksville/Qualicum saw no change (at $372,414), Port Alberni jumped 24% (at $250,485) and the Cowichan Valley was down 13% (at $347,833).
There are 17.5% fewer single family residential properties for sale now than in November 2008.
Excerpted from a VIREB release in December, 2009 - For more information contact:
Darrell Paysen - Manager, Member Services, Vancouver Island Real Estate Board
Phone: (250) 390-4212 Fax: (250) 390-5014 Email: dpaysen@vireb.com Website: http://www.vireb.com/
Source: VIREB, December 2009
Dec 11, 2009
The Gales, Luxury Patio Homes and Condos on Vancouver Island
The Gales is a 68 luxury patio home and condominium development (42 patio homes & 26 condos in two condo buildings) with fantastic ocean and mountain views located in Ladysmith between Nanaimo and Victoria on Vancouver Island. Every residence at The Gales includes vaulted ceilings, spacious rooms, and impressive views. The homes are designed and built in West Coast contemporary architectural style and the floor plans are open and spacious. Some of the other features include: granite counters, hardwood floors, heat pumps, stone fireplaces and 800'+ sq. ft. of deck and patio space. Phase I of the construction includes seven units of which five are sold. The homes are designed with a level entry floor plan that includes a walk out basement which boasts 2,800 sq. ft. of floor space. Four of these units are occupied and interior finishing is underway on the other three units. The second phase will include eight units; prices start at $629,000. Residents from outside of BC may be more familiar with the term luxury oceanview duplexes to describe this project. This project is centrally located on Vancouver Island and the homes feature stunning views. Learn more about The Gales.
Dec 03, 2009
There is a variety of real estate to choose from when looking for a home, vacation home, retirement property or investment real estate to purchase on Vancouver Island. The following types of real estate are available on Vancouver Island: single family (detached) homes, condominiums, duplexes & townhouses, patio homes, beach homes and vacation homes, and residential lots.

There are a variety of real estate vacation options, ranging from investing in a part-ownership of a condomiumium style project to purchasing real estate in one of many golf course developments on Vancouver Island or even on Mt. Washington, where some international winter teams are practicing for the 2010 Olympics. There are also many oceanview and waterfront properties to choose from all over Vancouver Island, with very affordable pricing. Due to the milder winters on Vancouver Island the building materials that are used are most likely wood, hardy planking, stucco and concrete for exterior finishes.

Learn more about Vancouver Island real estate.
Search today for new real estate on Vancouver Island.
Dec 03, 2009
The Woodlands
, a 76 unit
Comox Valley
patio home development has recently sold out all of their new homes; ten of the units have sold during the past three months. This patio home project offered a variety of plans and some of the larger units included a walkout basement. Prices started at $289,900. The Lerwick Forest and a variety of walking trails are located adjacent to this project and some homes feature excellent views of the Comox Glacier. These features helped this project to sell out quickly, where as other patio homes projects are still on the market. This project offered excellent value in a prime
Vancouver Island real estate
location. Click to learn more about the
Comox Valley
.
Source: www.claricecoty.com
Vancouver Island real estate is just one click away, find your perfect property at
1

stView.ca
Advertise With Us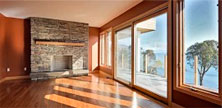 Builder? Real Estate Agent?
Advertise Your Real Estate Project. For more information regarding listing opportunities at 1stView.ca, view our advertising information or contact us.