Are Your Window Coverings on Trend for 2023?
Posted: Feb 10, 2023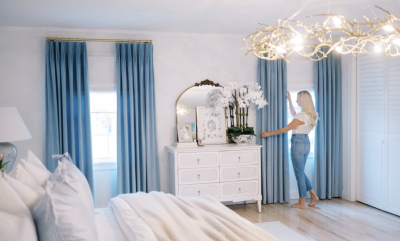 Design professionals and homeowners are seeing the following trends for 2023, accoridng to the design and building site Houzz. They include:
The Return of Colour
Playful Traditional Style
Layers of Texture
Connection to the Outdoors
Natural Materials
We Want Colour!
Bringing back more colour is one of the most common trends in the Houzz survey. After years of gray and white, it appears our extended time at home made us realize we miss colour! As we have become comfortable in our homes, we've gained confidence to surround ourslevs with our favorite colours, regardless of current trends whether on-trend or not! Go all in with colour, by adding saturated walls in a study or office, or just bring in a pop of colour with accessories like pillows, rugs, and artwork.
Colour can also be added through custom window coverings! Budget Blinds onV ancouver Island can match a paint colour for your blinds or shutters or create a bold custom fabric for drapery, pillows, and Roman shades.
Traditional Becomes Playful
What exactly is Playful Traditional?
The phrase popped up in the recent Houzz survey and in design magazines. Homeowners, especially younger first-time homeowners, are embracing traditional styling with a twist. They are adding their personality to the style with new colours, vibrant wallpaper, and by mixing vintage and modern furniture in rooms with traditional architecture.
Layering shades and draperies is the perfect complement to the playful traditional look. Classic drapes in a fun print or bold updated colour over a textured woven shade is the ideal combination of classic elements in an updated style.
Natural Materials and Organic Style
Natural materials are trending everywhere - from stone countertops and white oak cabinetry to wood floors, handmade tiles, and stone fireplaces, a natural organic feel is on-trend for 2023 and beyond.
Connecting to the Outdoors
Windows are getting more prominent, and large glass doors are often featured elements of home remodels or new builds. On Vancouver Island, our love of the outdoors, combined with the natural benefits of sunlight, has homeowners seeking a natrual connection and ways to bring the outdoors in.
While big panes of glass us the best views and abundant natural light, also create a window covering challenge. Seek advice from a trusted window covering designer at Budget Blinds. Budget Blinds has the perfect options to filter light and give you a layer of privacy when needed no matter what size your windows are.
2023 is About Personalization
Regardless of trends, homeowners will reflect their personalities and preferred colour choices in their homes.
Budget Blinds understands personalization; it is what they offer daily to homeowners across Vancouver Island. Visit their website to schedule a complimentary consultation with your local Budget Blinds design consultant and find the perfect window treatment to fit your home's personality.
Please note that this blog entry was published more than three months ago. Some details may be outdated.