Your Own Waterfront Vacation Home Awaits at Reef Point Cottage in Ucluelet on Vancouver Island's West Coast
Posted: Jul 16, 2013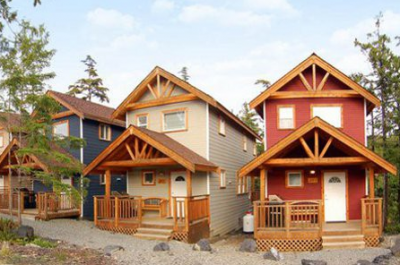 Have you always dreamed of owning a Vancouver Island waterfront vacation home? You can realize that dream this summer at Reef Point Cottages situated in beautiful Ucluelet on Vancouver Island. This waterfront cottage for sale offers an exceptional Ucluelet real estate investment opportunity.
With its private waterfront view, this low-maintenance 956 square foot cottage for sale is a two-bedroom, two-bathroom home offering excellent rental revenue opportunities within the Reef Point Cottages resort area. Luxury touches include teak, marble, and slate flooring; granite countertops; and pine wainscotting and ceilings. Curl up by the fireplace on stormy nights or bask in your private hot tub on the oversized covered deck overlooking Spring Cove. Unit 273 is competitively priced at $279,000. 
This Ucluelet vacation cottage for sale is part of the Reef Point Cottages rental program, entitling the owner to six months personal use per year. Cottage owners may also leave their vacation home in the rental program full-time and earn revenue with this hassle-free investment.
Reef Point Cottages are located on the breathtaking West Coast of Vancouver Island near Tofino, only minutes from Ucluelet's isolated pocket beaches and famous Long Beach in Pacific Rim National Park. Stunning vistas of the Wild Pacific Trail are virtually steps away from Reef Point Cottages. Isn't it time you had your own slice of paradise? Visit Reef Point Cottages today, and see how easy and affordable it is to own a Vancouver Island waterfront vacation home.
Please note that this blog entry was published more than three months ago. Some details may be outdated.
Related Resources & Links