Waterfront Vacation Homes Now Complete at The Maples at Sproat Lake
Posted: Oct 20, 2011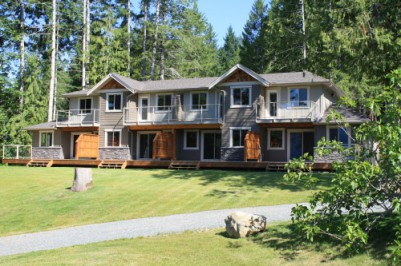 1stView is featuring new photos of the completed lakefront vacation homes at The Maples at Sproat Lake. Only 15 minutes from Port Alberni, on Vancouver Island, The Maples is easily accessible, yet provides a beautiful, private and scenic property for your new summer home.
Set on the warm waters on Sporat Lake, The Maples vacation homes offer 2 bedroom or one bedroom and den configurations.
Currently complete are two 1,226 sq ft, two story vacation homes with two bedrooms and two bathrooms.
As well there are two one bedroom plus den units now ready. The first floor is 649 sq ft and the second floor is 359 sq ft for a total of 1,008 sq ft. These homes also offer two bathrooms.
Both types of units offer a front deck off the main floor of 248 sq ft, as well as a deck off the master bedroom on the second floor.
For more information visit The Maples website.
Please note that this blog entry was published more than three months ago. Some details may be outdated.
Related Resources & Links