Riverside Senior Living in Downtown Courtenay is the Perfect Location for Independent Seniors
Posted: Mar 01, 2018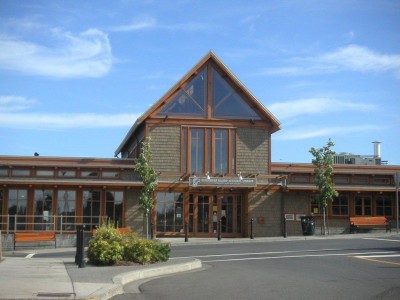 Future residents touring the recently-opened show suite at Riverside Senior Living are appreciating the convenience and access to amenities and services that the downtown Courtenay location offers.
Riverside Senior Living is conveniently set in downtown Courtenay, next to grocery and drug stores, and a shopping plaza offering medical lab services, a coffee shop, a travel agency and more. The development is also located next to the paved Riverwalk, the perfect spot for a stroll.
Courtenay's vibrant, walkable downtown shopping district features great local restaurants and access to medical and dental offices as well. The library, the Sid Williams Theatre and the Evergreen Seniors Club located in the Florence Filberg Centre are also located downtown.
Riverside Senior Living is located in the Comox Valley on Vancouver Island, a community that offers many of the benefits of big city living, but with a friendly, small town feel. The City of Courtenay is the largest of three municipalities in the Comox Valley, and is the hub for shopping and services.
Riverside Senior Living is the newest independent retirement living community in the Comox Valley on Vancouver Island. Contact them today to book a tour and learn more about the neighbourhood and life at Riverside Senior Living.
Call 250.331.4010 or register on their website.
Please note that this blog entry was published more than three months ago. Some details may be outdated.
Related Resources & Links