Pre-Opening Programs Still Available to Buyers at Waterfront Oak Bay Beach Hotel in Victoria
Posted: Jan 30, 2012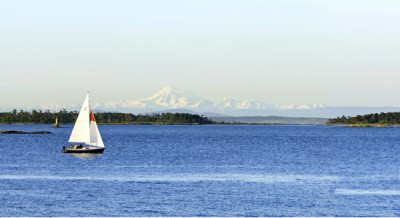 The Oak Bay Beach Hotel in Victoria on Vancouver Island is nearing completion of its oceanfront hotel, Victoria hotel vacation suites and luxury waterfront residential condos.
Looking back on 2011, the resort had its best sales year yet, with more than $20 million in sales on the books when the year ended, according to the Oak Bay Beach Hotel's director of sales Brad Neufeld.
"I guess that shouldn't be surprising given the quality of the project, the ability for clients to come for a hard-hat tour of the project, and the opportunity to see first-hand the views offered in the various properties," Neufeld said. "Nevertheless, it is extremely gratifying to watch our clients embrace the vision that we are bringing to life. 2011 saw us complete the sell out of the first three phases of vacation hotel suites, and we have now also sold 40 per cent of the residential condo properties in the project."
The Oak Bay Beach Hotel is still offering pre-opening programs to early buyers.
"Phase four of the vacation hotel suites will be released this month, and we are calling this the 'Have Your Cake And Eat It Too' program," Neufeld explained.
"You receive a leaseback contract from us that is 50 per cent higher that normal, with the right to sell the property back to us after five years."
The Oak Bay Beach Hotel is also offering a "Fly and 'Try" program that includes a free weekend / three day trip to Victoria to come and see the vacation suites and oceanfront luxury condominiums. If you decide to buy while you are visiting, the Oak Bay Beach Hotel will pay for your trip.
Please note that this blog entry was published more than three months ago. Some details may be outdated.
Related Resources & Links