Oceanfront Lots for Sale at Saratoga Beach on Vancouver Island
Posted: Feb 27, 2014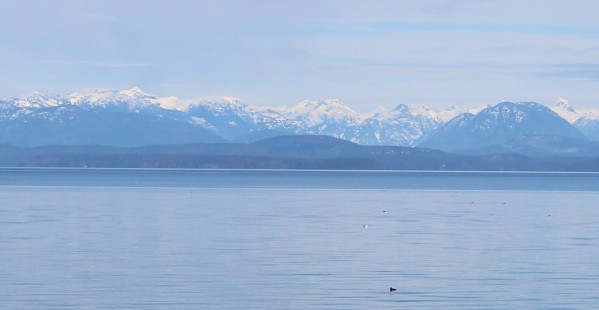 We visited Driftwood Estates on a beautiful sunny day this week. It had snowed a little bit during the previous few days, unusual for the west coast, and the mainland mountains glistened in the sun with the new snow – it truly was spectacular to see. If you chose to buy an ocean front lot on Vancouver Island, this would be your view from your custom home at Driftwood Estates at Saratoga Beach on Vancouver Island. This ideal location is located between the communities of Comox and Campbell River.
Ocean Front Setting on Vancouver Island
Other new homes have been built here and the residents enjoy the ocean front setting, with the views of mountains and the year round abundance of sea life and birds. From this location, you will see eagles, herons, trumpeter swans, Canadian geese, ducks, and of course seals, sea lions and the occasional pod of orca whales. This is also a preferred location to fly fish from. Local fishers have been coming here for years. Of course, if you prefer to engage in some boating activity, Pacific Playgrounds Marina is only a few minutes away, and you can launch or moor your boat from this location.
This is truly a beautiful piece of Vancouver Island real estate. There are only four lots left in this private subdivision, located on a cul-de-sac. Phase II of Driftwood Estates has only four lots left, priced at $479,000. Visit the Driftwood Estates website for lot availability and site information, or call 1.855.886.2121 You can also contact realtor Ed Handja at 1.800.563.7322.
Please note that this blog entry was published more than three months ago. Some details may be outdated.