Oak Bay Beach Hotel, Victoria's Luxury Waterfront Hotel and Residences, Announces 2012 Opening Dates
Posted: Jul 28, 2011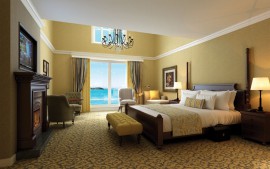 Victoria's re-built Oak Bay Beach Hotel is now less than one year away from opening its doors on the Victoria watefront. Opening celebrations have been set for the May 19, 2012 long weekend at the iconic Oak Bay Beach Hotel development project, located on Beach Drive in Victoria, Vancouver Island.
Set on the edge of the Pacific Ocean, in arguably one of Canada's most scenic neighbourhoods, Oak Bay, the combination hotel, luxury residences and vacation hotel suites is well on its way to completion.
Kevin and Shawna Walker, the owners and developers of the $52M endeavor, are excited to show off the renewed project.
Kevin Walker notes that fans of the first Oak Bay Beach Hotel will be pleased to see that a number of original materials are being used in the rebuild, including bricks, windows, beams and furniture. In addition, both the well-loved Snug Pub and dinner theatre program will be key features of the re-opened hotel.
A number of modern amenities, as well as luxury private residences have been added, making the property Victoria's first luxury hotel and spa with private residences. The Oak Bay Beach Hotel is also targeting a LEED Gold certification and 5 Green Keys in the Hotel Association of Canada's Green Key Program.
Thanks to a number of innovative incentives rolled out to potential buyers this past spring, including a buyback guarantee and membership to a luxury travel program, the Walkers have already sold (or are near closing) eight of the available 20 residences and 47 of the 100 vacation hotel suites. Pre-opening pricing starts at $350,000 (for investment vacation hotel suites) and $1 million (for private residences).
For more information about purchasing a private residence or vacation hotel suite at the Oak Bay Beach Hotel, visit www.oakbaybeachhotel.com or call1-800-668-7758.
Please note that this blog entry was published more than three months ago. Some details may be outdated.
Related Resources & Links