Come Home to the Holiday Season at Chemainus Garden Holiday Resort Near Victoria
Posted: Dec 12, 2011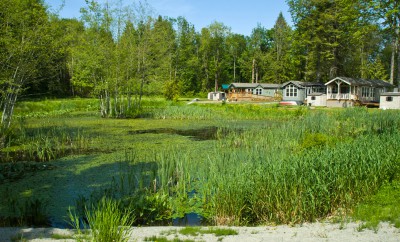 Get into the spirit of the season at Chemainus Garden Holiday Resort. The garden setting at this park-like RV holiday resort provides the perfect backdrop for the 2011 Festival of Trees, a seasonal fundraiser for Chemainus Harvest House Senior's Centre and Little Town Christmas
The Festival of Trees transforms The Pavillion at Chemainus Garden Holiday Resort into a lush forest of beautifully decorated trees. Local businesses, organizations and individuals decorate the trees in a sometimes wacky, often irreverent, and always beautiful fashion. The trees will be displayed throughout The Chemainus Garden Pavillion over the holiday season. For more information about the Festival of Tree, visit the Chemainus Garden Holiday Resort Website.
Vancouver Island's Chemainus Garden Holiday Resort offer Park Model Homes starting at $79,900. Park Model Homes combine the advantages of home with the carefree lifestyle of a high end RV Resort Community for an affordable price. Park Model Homes are meticulously designed with storage in mind, and provide up to 530 sq ft of living space. Options include one bedroom, 1 bedroom plus den or two bedrooms, and even a covered porch. Park Model Homes come standard with beautifully appointed kitchens, full size appliances, conventional bathrooms and loads of natural light. Options are endless - granite, hardwood, and lots of windows.
Please note that this blog entry was published more than three months ago. Some details may be outdated.
Related Resources & Links