Add Automation to Your Window Coverings With Budget Blinds
Posted: Oct 27, 2021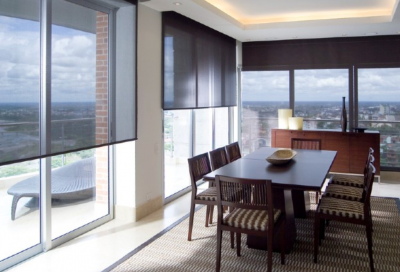 While you've probably added a smart speaker, maybe a programmable thermostat or a monitoring doorbell to your home, have you considered automating your window coverings? Blinds and shades can be automated to enhance the comfort and security of your home!
Budget Blinds on Vancouver Island is a leader in automation for window coverings as well as other home technology.
The Smart Home Collection by Budget Blinds includes brands like Somfy®, SONOS, and other top tech brands to offer homeowners a full offering of state-of-the-art, intuitive solutions for today's home. You can control your window coverings, lighting, climate, home security and entertainment systems, with the push of a button from your smart device, handheld remote control, or keypad.
But no need to buy everything new! Budget Blinds can work with your existing window coverings to retrofit them with any of this new technology. Motorized retrofit solutions will offer significant savings over an all-new motorized system, and allow you to program window coverings on timers to open and close at specific times during the day to help save on energy costs. You can even select from several control options - from wireless wall switches to hand-held remotes.
Automated window treatments allow you to control and schedule the positioning of your window coverings for enhanced, on-demand privacy, and since they are cordless, they provide a safer environment for children and pets. Motorized window treatments also include unique sensors that allow you to increase energy efficiency by automatically adjusting your window coverings with rising temperatures.
Contact Budget Blinds on Vancouver Island today to learn how you can simplify and automate your home:
Call: 250.924.0249
Call 250.751.8564
250.338.8564
Please note that this blog entry was published more than three months ago. Some details may be outdated.