1stView Team Tours Reef Point Cottages in Ucluelet
Posted: Jun 18, 2012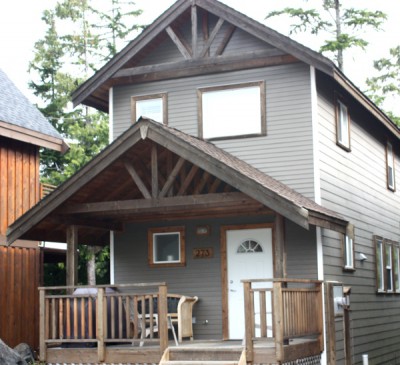 The entire 1stView team recently traveled to Ucluelet for our annual retreat. While we were there, we had the opportunity to visit Reef Point Cottages, and see this lovely community of waterfront vacation homes for ourselves. There is currently one water view vacation home for sale at Reef Point Cottages, and we had the chance to tour this home. Among the highlights are a private deck set among the trees. I could easily imagine myself enjoying dinners with family and friends on this large patio, or relaxing in the hot tub. A spacious kitchen and cozy family room take up the downstairs, while upstairs two large bedrooms - one with its own private patio - provide ample room for the family. Reef Point Cottages is located along the Pacific Ocean, on the West Coast of Vancouver Island in Ucluelet, BC. The Vancouver Island waterfront vacation homes at Reef Point Cottages offer an exciting Ucluelet real estate opportunity.
This Ucluelet vacation cottage for sale is part of the Reef Point Cottages rental program and the owner is entitled to 6 months personal use each year. The owners can also leave their vacation home in the rental program full-time and earn a return on this hassle free investment. Reef Point Cottages is located near Tofino, just minutes from Ucluelet's beautiful pocket beaches or Long Beach in Pacific Rim National Park. The Wild Pacific Trail is on the doorstep of Reef Point Cottages.
Unit 273 is priced at $279,000.
Please note that this blog entry was published more than three months ago. Some details may be outdated.
Related Resources & Links