Garden Centres in Cumberland
Address

2184 Lalum Road


Black Creek, BC V9J 1H6

250-337-8922
Toll free 1-800-771-6771

Website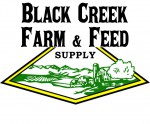 Black Creek Farm & Feed Supply is a family-owned building supply, feed and lumber yard situated half way between the Courtenay in the Comox Valley and Campbell River, proudly serving Vancouver Island communities since 1983. In the spring of 2015, Black Creek Farm & Feed purchased the assets of North Courtenay Landscape Products, so Black Creek Farm and Feed now offers bulk sales of mulch, topsoil, navi-jack, compost, and sand. They also have a well stocked Garden Centre complete with everything you need for grass and garden care. They also supply hardware, paint, and a variety of fencing and roofing products, too. For any size of building projects, ask Steve Nixon for a "package" quote. Black Creek Farm and Feed also offers delivery services for feed, bedding, and landscape products. Check out the animal care products and feed for a variety of critters--from dogs, cats, and birds, to livestock, horses, and chickens.
Want to see your business listed here?
Please review our advertising information and contact us today.