Aggregate/Gravel Rock
Address

2323 Fosgate Road


Campbell River, BC V9H 1B8

Phone

250.923.7553

Email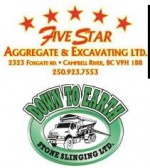 Down to Earth Stone Slinging can load dirt, sand, top soil, sea soil, pea gravel, drain rock and fisheries rock and more. They truck it in and they spread it out! Based on Vancouver Island, Down to Earth Stone Slinging uses a stone slinger truck to place sand, gravel, pit run and landscaping material accurately and precisely. Down To Earth Stone Slinging's system is designed to eliminate hours of manual labour while placing sand, topsoil, drain rock for perimeter drains, for back filling crawl spaces and garages and placing blue chip on driveways. Their trucks can haul 10 to 12 yards of material at a time and can place material from 0 feet to 120 feet with a conveyor belt system, which has a 270 degree working radius. Down to Earth Stone Slinging Ltd. is now doing business under Five Star Aggregate & Excavating Ltd. The company offers landscaping supplies and servicing, as well as excavation, trucking, septic design and installation. Five Star Aggregate & Excavating Ltd. and Down to Earth Stone Slinging serve residential and commercial customers, including contractors and home owners on north Vancouver Island, Courtenay and Campbell River. They look forward to providing you with the same Five Star Service!
Want to see your business listed here?
Please review our advertising information and contact us today.