Computers
Toll Free

866.267.2773

Phone

250.792.2352

Website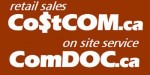 CostCOM has been retailing PCs, laptops, printers as a value added service for the customers of the "Computer Doctor" based in Courtenay, Comox Valley since 2006. This family business grew from the online hosting and programming presence of Webrunner Internet Ventures, online since 1997. CostCOM provides the same quality of service to their online and off line clients. CostCOM excels in customer support because they are a small company that provides customers the attention that they deserve. They start by offering our customers the following advice: when it comes to technology, don't just buy the cheapest hardware you can find, buy the best hardware you can for the most reasonable price. Customers in the Comox Valley, you can call the Computer Doctor at 866-267-2773 to schedule an on-site visit.
Want to see your business listed here?
Please review our advertising information and contact us today.