More Lots Being Built to Meet High Demand in the Crown Isle Community
Posted: May 20, 2017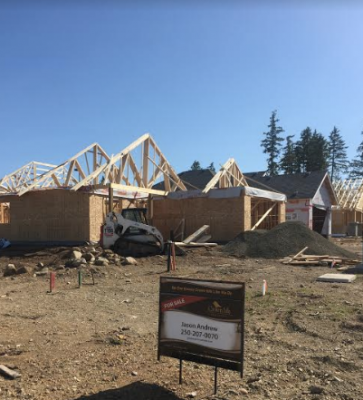 Builders and private clients have spoken for all of the available inventory of lots that have been registered within the Crown Isle Community. More opportunities are on the horizon as one subdivision is being completed and there are plans in the works for additional lots to be built.
Hampton Gate, Phase 2 is now registered - five new homes are set to begin construction within the next two months. There are several "Build to Suit" lots with Homes by Crown Isle , Integra Homes and Omnix Properites. Currently five lots remain for sale, with prices starting at $299,900.
Also, preliminary layout approval has been received on 3 more subdivisions. There will be an additional 69 lots in the next phase of The Rise, 67 lots on the extension of Crown Isle Drive and 17 larger estate lots bordering on the 14th, 15th and 16th fairways on the golf course.
Site servicing is scheduled to begin in late summer or early fall of 2017 and registration is expected to be completed late 2017 or early 2018.
Pricing of these lots is to be determined. Please contact the Real Estate team to receive up-to-date information on these new lots in the Crown Isle Resort and Golf Community.
To learn more about real estate options in Crown Isle in Courtenay on Vancouver Island, contact:

Jason Andrew, Director of Sales
Phone: 250.207.0070
Email: jandrew@crownisle.ca
Please note that this blog entry was published more than three months ago. Some details may be outdated.
Related Resources & Links